World Cup
World Cup 2018: Fabulous France blitz past Croatia to win title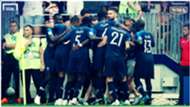 France clinched their second World Cup title after a 4-2 win over Croatia in the final in Moscow's Luzhniki stadium. An own goal from Mario Mandzukic, Antoine Griezmann, Paul Pogba and Kylian Mbappe was enough to overcome strikes from Ivan Perisic and Mario Mandzukic. 
Croatia began the game well and looked to be more cohesive at first. The avalanche of Croatian pressure was quelled when France took the lead in the 18th minute. Antoine Griezmann floated in a sumptuous free-kick from 20 yards which Mario Mandzukic felt compelled to flick back. Unfortunately, it went past Subasic into his own net.
However, Croatia levelled the scores soon. Kante's unnecessary flick on a Perisic cross proved costly. A game of pinball erupted in the penalty box before Perisic finally sized up a shot from the edge of the box and smashed it into Lloris' goal. It was poor defending by France who simply did not clear his lines. 
But Perisic soon turned into a villain when he was adjudged to have handled a corner. The referee awarded the penalty after consulting the VAR, which Griezmann placed well to make it 2-1. France, despite not playing at their best, capitalised on the two set-piece chances they were afforded and led at half-time. 
The second half began with a chance for the Croats, who saw Rebic's stunning effort form the inside of the box, after a supreme layoff by Modric, saved splendidly by Lloris. 
But Croatia's armour was further dented when Pogba's exceptional through ball for Mbappe sent the forward clear. He found Griezmann in the box who laid it off for Pogba on the edge of the box, whose initial tame shot was easily blocked. However he curled in a beauty past a flat-footed Subasic off the rebound. 
The evening got worse for Croatia, when Mbappe scored an absolute stunner. Receiving the ball from Hernandez, the 19-year-old took a touch and from 25 yards out, smashed a low drive past Subasic who stood akin to a statue on the goal line again. 
Lloris then committed a blunder to hand Croatia a consolation. He tried to dribble past Mandzukic after receiving a back-pass. However, the striker stuck a leg out and deflected the ball in.
A reinvigorated Croatia threw forward attacks at will but France shored up their midfield and repelled them. 
Croatia huffed and puffed, but the last ball was ultimately missing when they needed it the most. France took their opportunities with precision. Pogba had a golden opportunity to restore a three goal lead at the end, but was thwarted by a bad touch. 
There was no denying France from claiming their second World Cup title.