Orlando Pirates
William Shongwe backs Brilliant Khuzwayo to shine for Orlando Pirates if given a chance in the Soweto Derby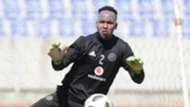 Former Kaizer Chiefs and Orlando Pirates goalkeeper William Shongwe has backed Brilliant Khuzwayo ahead of Saturday's Soweto Derby.
Khuzwayo is available for selection and could make his Pirates debut against his former side in a highly-anticipated PSL match at the FNB Stadium.
"It is not going to be an easy one (for Brilliant). Knowing Brilliant, he is one goalkeeper that has confidence about himself whereby he can face any situation," Khuzwayo told IOL. 
"You can see even when he is in goals, facing penalty shootouts, he doesn't seem or look intimidated in anyway. This is just who he is. That's how he is going to approach this encounter. He just has that nature of confidence about him," he said.
Khuwayo became one of only a few players, who have joined Pirates from Chiefs after leaving the Naturena-based side at the end of last season as a free agent.
The former Swaziland international revealed that it was not easy for him to leave Amakhosi for their arch-rivals Bucs in the early 90's. 
"It is not easy particularly if you're looking at leaving Chiefs and going to Pirates. Pirates is still another big team. You set yourself a bar as a player that you want to be at that level," he continued. 
"Sometimes if you drop too low, the pressure is not that much and the competition is not that much. It does tend to take away that level of excitement from you. Playing for these two, there's no dull moment about your game. That helps you to keep your performance level high up there," he explained.
"I can't blame him (for leaving Chiefs). He spent so much time on the bench. Even when he was playing, they didn't allow him to make a mistake or to drop his performance levels for him to be substituted. That doesn't help the confidence of any goalkeeper," Shongwe added.
"It was the same thing that happened to Reyaad Pieterse (who left Chiefs to join SuperSport United) and he opted (to choose) that, you know what, it is time up for me at Kaizer Chiefs," he stressed.
Nicknamed 'Cool Cat', Shongwe disclosed the real reason why he decided to leave Amakhosi during his playing days.
"It was an intense time (when I moved to Pirates). The rivalry between the two was very intense. Supporters weren't too sure if you are coming from the other side what were you bringing, and how sure is management that you will not sell games? The first game I made it when we played Pretoria City at Orlando Stadium. A week prior to that, Pirates had lost 5-1 to Bloemfontein Celtic," he revealed. 
"I had to make sure that I do well enough to convince the people, and fortunately I had a decent game, making numerous saves on the day. From there on, they believed that I can do the job for Pirates," Shongwe elaborated.
Shongwe is expecting a thrilling encounter between the two biggest football clubs in the country.
"People are waiting in anticipation. Remember, we didn't have the Carling Black Label Cup, where those new signings who have been tested against each other like it would happen in the past. It is the first Derby game that is going to happen. It is going to be an exciting Derby for sure," Shongwe concluded.