Opinion
Will poor officiating undermine the new Ghana Premier League season?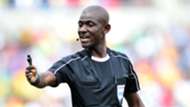 ---
COMMENT
---
Last year, referee Joseph Lamptey put Ghana in the news globally, but for the wrong reasons.
Initially suspended for three months by Caf, the Ghanaian was handed an indefinite ban by Fifa for "unlawfully influencing the match result" of the 2018 Fifa World Cup qualifier between South Africa and Senegal in 2016.
It was disgraceful, shameful, and regrettable. It was a one-man punishment, but also a dent on the image of a whole nation.
But can Ghana say they didn't deserve it?
The Ghana Premier League returned this weekend, and while the new season has been accompanied by traditional optimism, it's worth examining whether one of the league's banes — refereeing — will again overshadow the action.
"Referee [Samuel] Sukah was a joke because his performance was terrible," Asante Kotoko assistant coach Godwin Ablordey lamented after an 83rd-minute penalty condemned the Porcupine Warriors to a 1-0 defeat to arch-arrivals Hearts of Oak last season.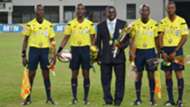 "I have watched the replays of the penalty awarded. It wasn't a penalty. How referees are officiating in Ghana Premier League, they will always take our game back.
"He was not fair to us at all. We were cheated," he added. "I want everyone to go and watch the ball again. If it is a penalty, fair enough, but if it is not, we all know the kind of referees we have.
"I am even surprised Joseph Lamptey was the fourth referee. This is a man who went to South Africa to officiate, a ball hit a player in the thigh and he awarded a penalty. He was handed a three-month ban and here he is on the touchline in such a big game."
That issue of bad officiating was certainly not isolated.
Referee Prince Amoah was slapped with an indefinite ban for "ignoring an obvious penalty" in the clash between Hearts and Aduana Stars, while Yaw Ametepe was slapped with an eight-game ban for "wrongful calls" in the match between Hearts and Ashanti Gold.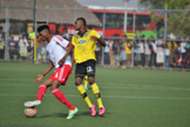 In March, Justice Opoku was suspended for the rest of the season for awarding a "dubious penalty" to Wafa against Tema Youth on matchday 6.
Outside the league, Nuhu Liman copped a ban for the rest of the season for awarding a strange penalty to Kotoko in their FA Cup quarter-final against NEA Salamina.
Worryingly, the situation is multifaceted.
"Club administrators call us the minute we are named to officiate their matches and negotiate with us," a class-one referee told Asempa FM on condition of anonymity.
"They inform their supporters when we refuse to officiate in their favour and some even attack us.
"[Elmina Sharks owner] Paa Kwesi Nduom paid the highest bribe in Division One and paid as much as GH¢ 6000 for matches to go in his favour," he continued. "I'm surprised if he is talking about corruption now.
"I have colleagues who take these monies from his club even now in the Premier League and he pays depending on the opponent he plays."
Renowned football administrator Alhaji Karim Grunsah, founder of second-tier side King Faisal Babes, has countlessly spoken with impunity about how he 'bribed' referees during their years in the elite division. He still walks and works freely without any action from the FA.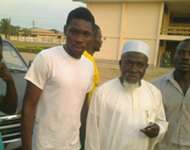 And he's not alone.
"I paid bribes to referees on countless occasions during our time in the Premier League," Amidaus president Alhaji Baba Gedo told Happy FM last year. "No football administrator in Ghana can run away from this fact. I used to pay fat bribes to referees but I've stopped now because I didn't benefit from it.
"What's pissed me off is you'll pay the bribe and the referees will still go ahead and rob you, which means he has collected bribe from your opponents as well, so at the end of the day it's [referees] who are benefiting."
We face these issues, yet struggle to understand why the top flight is unattractive and why it's been without a headline sponsor since 2015?
Are Ghanaian football fans just hypocrites or do we opt not to see the truth of the situation?
Supporters chastise clubs for taking the FA to court, for putting injunctions on the league, for holding the top flight to ransom or throwing the calendar off balance. However, at the same time, they fail to acknowledge that these actions have been a result of people feeling unfairly treated – on and off the pitch?
Fans of the GPL, and Ghanaian football in general, appears to be in denial about the true ills that are undermining the game.
Lamptey may be the figurehead for the questionable level of Ghanaian refereeing, but he surely just represents the tip of the iceberg.
The top flight has returned, but it feels like only a matter of time before another scandal overshadows the action on the pitch.