NPFL
Wikki Tourists players get deadline to report to camp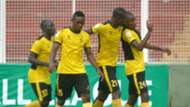 Wikki Tourists management have told their players they have till Sunday to report to their Bauchi camp.
The Bauchi Elephants ended last season in 13th position with 53 points from 38 games.
Club chairman, Awulu Babajada informed Goal that only 18 players have arrived their base with additional seven other players granted permission to hit the camp over the weekend.
"We had 35 players with us last season but only 18 of them have arrived camp while seven others sought permission to attend to some other issues. They all have Sunday with which to report to camp or forget about playing for Wikki Tourists," Babajada told Goal.
"We need committed players and players who are not committed do not have a place in our team. We have been magnanimous enough to give them additional one week to ensure that they all come back.
The Wikki Tourists' chairman also confirmed the retention of the technical crew of the team headed by Bala Nikyu for the next season.
"We have placed our trust in Bala Nikyu and his assistant coaches," he said.
"He came in at a time we were in desperate need of result and he was able to save us from relegation. We can't at this time abandon him in place of another coach. Nikyu will stay with us and nothing is going to change that."