African All Stars
Why Nigerian players don't attract big clubs - Victor Agali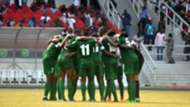 Former Nigeria striker, Victor Agali blames the decreasing level of Nigerian footballer in transfers to prominent European clubs on the poor representation of the country's national teams. 
Since the Super Eagles' triumph at the 2013 Africa Cup of Nations, the country has missed out subsequent editions of the competition.
Also, the Nigeria U17 and Nigeria U20 teams missed out of major championship. These factors are what the 38-year-old sees as reasons for the decline in massive transfers involving Nigerians.
"This is something we've enjoyed in the past we have had Nigerians hit big transfers, make big moves. But we lost it along the line and it all came when our national teams start dropping and we are now back to start coming up again," Agali told Goal .
"The last time we had a transfer of Ndidi; it's reasonably big for a defensive midfielder. So that's okay but I hope it follows on. We have more."
On the contrary, Agali also believes that the more attractive Chinese Super League does not help matters as footballers seek to earn more while settling for playing in Asia.
"But now with the Chinese people coming in, and with everyone now going to China I'm afraid the football countries like Nigeria and other countries where their indigenous football is not so high will definitely suffer."