World Cup
Why Nigeria 'got it right' against Iceland - Ladan Bosso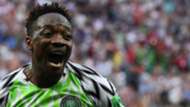 Criticism from fans and the media inspired Nigeria's win over Iceland, according to Ladan Bosso.
After their World Cup opener defeat to Croatia in Kaliningrad, Gernot Rohr and his Super Eagles side came for heavy media criticism.
However, Ahmed Musa's second-half brace helped the three-time African champions get past the Vikings and, thus, climb to second spot in Group D.
Delighted by the win, the Nigerian football coaches association boss explained that the decision of Gernot Rohr to examine the complaints of supporters and the press paid off.
"At the beginning against Iceland, I had no panic about the match," Bosso told Goal.
"The loss to Croatia taught the boys some lessons because they as well as their families were not happy with them. As coaches, we love to see beautiful football and by the team's performance in the second half, we can say there are some improvements.
"Immediately after our first match - we sat down to put forward our observations. We didn't play well and lost to Croatia and we asked ourselves lessons we learned from it.
"The fans and media were complaining about how some players were (played out of their positions) and the Super Eagles' coaches took correction and saw how the players played well l against Iceland.
"We must listen to the voice of the media sometimes when they complain because their opinions can always be useful and I must admit that they (media) where why we got it right.
Ahead of Tuesday's crucial final group clash with Argentina, the former U20 coach believes the African giants are capable of anything if they go all out for victory against an 'experienced' South American giants.
"If we sit down and compare the first and second matches, putting together the positives and shoving away the negatives, you will see that we will be up there," he continued.
"Argentina are not a pushover and an experienced side. They will definitely come all out against us because they will not be planning to go back home with no point.
"But we must prepare to go up against them with the mind of winning and put up an added effort to what we've achieved already to ensure we qualify to the next round."