KPL
Why Jerim Onyango deserves place among Gor Mahia greats
11:25 AM GMT+4
07/06/2017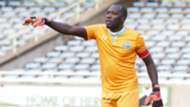 They hail him as 'The King'; 'The Leader'; 'Captain' and 'Legend'.
Rightfully so, soft-spoken Fredrick Jerim Onyango has done everything humanly possible to earn these accolades-thus engraving his name in the hearts of K'Ogalo fans. From dedicated service, loyalty, to top notch performances - he has been there, done it, and seen it all.
Little wonder, last week, the club rewarded his efforts by inducting him in the technical bench - where he will serve as the assistant coach of the junior team - deputizing Tom Ogweno, an ex-international.
You see, in the current Kenyan football landscape, it is very rare to find a breed of a player like Onyango. In fact, engaging in such painstaking exercise is akin to milking water from a stone. He may not have been an "A' class shot stopper, but his dedication to a cause he believes in is unrivalled.
Former Gor Mahia captain gets new role with the club
And in an era where players are driven by quick money and fame, they hardly last at one club. Onyango didn't belong to this category. Two goals and one towering display, followed by a screaming newspaper headline in their praise is just enough to twist their head.
     Jerim Onyango celebrates with Kenyan Premier League trophy
However, for Onyango, that was never the case. Joining K'Ogalo in 2008 from Kenya Revenue Authority, now renamed Ushuru, Onyango stuck with the club through its lean times, at times craning out his neck for the hang, when the most logical thing would have been to quit.
His patience over the years and dedicated service saw him rewarded with the arm-band after the exit of Julius 'Awilo' Owino and the club has now followed it up by promoting him to the technical bench. This should be lauded moreso coming from a part of the world where footballers get little recognition, but a passport to bleak future and life of squalor after football.
On this, Gor Mahia management got it right. Like in the west, our clubs need to borrow a leaf. They need to embrace modernity where legends - deserving ones for that matter - are given a chance to work at the club once they hang their boots. Arsenal have Steve Bould, Manchester United had Ryan Giggs while Real Madrid has their own great Zinedine Zidane, who won the Los Blancos a record 12th Champions League title last week.
It is equally refreshing to hear the club official Ronald Ngala say they will consider sponsoring him to a coaching course. Hear him speak: "It was prudent he works for the club he's served with dedication. If funds become available, we will sponsor him to a coaching course even if it means going abroad."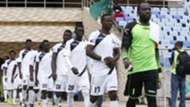 As usual, Jerim Onyango leads Gor Mahia out in many of the matches
With Onyango's leadership skills and impeccable discipline, it is no brainer that these attributes will rub onto the younger generation under his care. This will not only beneficial to the club but the national team as a whole. Having a generation of dedicated and disciplined players has been our greatest undoing in the last decade, and if Onyango can help churn a few of them out, who knows, he will perhaps deserve his Hall of Fame.
With a new assignment in his hand, Onyango must now strive to keep the bar high and prove to the Green Army, who have for over a decade idolized him from the terraces that he has still a lot more to offer, albeit in a different capacity. Should he do so, maybe, in future, when K'Ogalo comes of age, they could consider immortalizing him with a monument behind their yet to be built stadium.
Gor Mahia players criticized for snubbing Harambee Stars
As to when or if that ever happens, only the Heavens know!