Africa Cup of Nations
Why Egypt win suits Black Stars best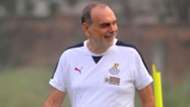 Ghana are in the enviable situation of heading into their last group game against Egypt knowing that they're through to the Nations Cup quarter finals regardless of the outcome.
Two victories in their opening matches have seen Avram Grant's side through to the last eight, and they can now choose how they approach the contest against the Pharaohs.
On one hand, the Israeli coach may be keen to keep his side's momentum going. Victories are excellent for morale, and with no other side in the competition having won all three of their group games, it would be a remarkable boost for the Black Stars if they could reach the knockouts as the only side with a 100 percent record.
Similarly, Grant will also be aware that some of the newer components of his starting XI, men like Frank Acheampong at left-back, Thomas Partey in midfield and Daniel Amartey in the backline, need more time to gel and develop an understanding with their teammates.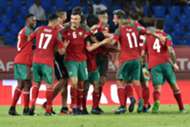 The former Chelsea boss may then see the showdown with Egypt in Port-Gentil as a good opportunity to stick with an unchanged side and to allow his team to grow as a unit.
However, there will also be the temptation—as Senegal did against Algeria—to shuffle his pack, to introduce some of the squad's fringe players, and to assess some of the other options in his squad.
It would certainly be a valuable exercise for the coach, even if the new faces may not have had any experience of playing together before, while Grant would also be able to foster a sense of unity in the squad, with everyone feeling like they're playing their part.
It would also allow Grant to avoid risking any of his star men on the troubled pitch at Port-Gentil, as it would be galling to suffer another major injury—Abdul Rahman Baba lasted less than a half in Ghana's opener—in a dead rubber.
Against, with respect, Uganda, or even Mali, this may be a no-brainer, but against an Egypt side who beat Ghana as recently as November, Grant may be wary of sending out a second-string XI to be exposed.
However, should the Black Stars—worst-case scenario here—fall to defeat against the North Africans, it could actually be a blessing in disguise for 2015's finalists.
Following the conclusion of Group C's matches on Tuesday, Ghana now know that if they win or draw against Egypt, they will face Morocco, while if they are defeated on the ragged turf of Port-Gentil, they will meet pool winners Democratic Republic of Congo in the next round.
Ostensibly, the Black Stars should want to avoid the undefeated group winners, but actually, in this instance, might the Leopards be better opponents than the Moroccans?
While Congo offer quality in attack, despite the absence of Yannick Bolasie, their defence can be exposed by talented forwards, and they conceded twice against the Cote d'Ivoire in Oyem in their second group game and were troubled by Togo in their final match.
Of all the teams to reach the final eight, only Tunisia have a worse defensive record.
Similarly, while Morocco were defeated by the Leopards in their opener, they are improving rapidly, and Herve Renard—who knows Ghana's strengths and weaknesses well—is an expert at guiding teams through the knockout rounds in the Nations Cup.
Psychologically, Ghana may feel they are at a disadvantage to go up against the man who ended their Afcon dreams in Bata two years ago, while the prospect of a showdown with Congo—which would mean defeat against Egypt—could be a more promising tie for the Black Stars.
The value of a defeat against the Pharaohs cannot be ignored, but with Morocco lying in wait in the case of any other outcome, and with Grant surely wary about risking his star names, don't be surprised if the Stars take it easy on Wednesday evening.