Mexico
Mexico vs. Trinidad and Tobago: Who will be in El Tri's starting XI for the World Cup qualifier?
10:32 PM GMT+4
28/03/2017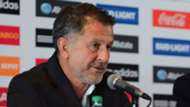 With three points already in the bag, Mexico could come out of this month's qualifiers beaming.
A busy summer looms, and the possibility of having 10 points out of the first four games would decrease some of the urgency the team will feel in June. 
Mexico will stick with winning formula
To do that, El Tri will need a victory against Trinidad and Tobago on Tuesday in Port of Spain, and while the Soca Warriors have struggled, they've recently shown signs of life with a 1-0 win over Panama under new coach Dennis Lawrence.
How many changes will Juan Carlos Osorio make ahead of the game, and what will his alignment look like? We've hazarded a few guesses...
---
Slight modifications
---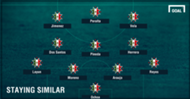 Let's start a goalkeeper where the choice looks to be between Guillermo Ochoa, who started against Costa Rica, and Alfredo Talavera. While Trinidad and Tobago have threats from set pieces in the box and some taller elements, which in the past has led Osorio to select Toluca goalkeeper Talavera, I'm going with Ochoca again.
"To me, it looks like it's the most athletic team there is, so as we said when we played against Jamaica, they're very similar: Strong, fast. Almost everybody gets forward really well and above all (the three attacking midfielders and lone forward) all have speed from the middle on up," Osorio said.
The last time we saw Mexico play Jamaica, it was Ochoa in goal. For now, we'll keep with that. Hector Moreno and Nestor Araujo are likely to repeat their center-back partnership, but we could see a switch at right back with Diego Reyes now healthy after Carlos Salcedo had a below par night at right back in the Estadio Azteca.
Going forward, Chicharito apparently is healthy, but why risk him? Oribe Peralta can start as the front man with Raul Jimenez going into the wide place where Peralta played against Costa Rica. And young Orbelin Pineda can slot in directly for the injured Rafa Marquez. Jonathan Dos Santos and Pineda also could swap.
---
Midfield tweaks
---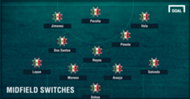 Of course, we've also seen Reyes play in the midfield spot vacated by Rafa. Here, we've moved Reyes into the midfield in his return from suspension with Salcedo reprising his right-back role. Pineda moves to the outside, though it's possible he could play a bit farther forward, as Osorio indicated he might have had Chicharito not come off injured and forced a substitution in the second half against the Ticos.
Heat on Pinto in San Pedro Sula
Other than that, we've kept the same front three from the previous projection and an unchanged back line and goalkeeper from the Costa Rica game.
---
Complete overhaul
---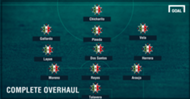 So, this is not going to happen. It'd be interesting to watch if it did, though!
If Osorio sees Kevin Molino taking a more advanced role Tuesday, he might opt for three center backs to continue to outnumber the forwards, dropping Reyes between Moreno and using Layun and Herrera to create overloads on one side and switching the point of attack to the other.
We've also got Pumas winger Jesus Gallardo in there and have reinserted Chicharito for grins. Again, this isn't likely to happen, but it's a lineup that could work for Mexico against a team with Trinidad and Tobago's profile.