Arsène Wenger
Wenger told me he's staying at Arsenal – Pulis
12:52 PM GMT+4
20/03/2017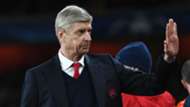 West Bromwich Albion manager Tony Pulis has revealed that Arsenal boss Arsene Wenger told him he plans to stay on with the Gunners.
The Frenchman's contract expires in the summer, and with the Emirates club currently on the worst run they have experienced under more than two decades of Wenger's leadership, speculation is mounting that he could step aside at the end of the campaign.
Arsenal's woeful run under Wenger
WBA inflicted a 3-1 defeat upon the Gunners on Saturday, but Pulis has revealed that his rival apparently has no desire to step down.
"I'll be surprised if he goes," the Welshman told the media when asked to speculate on Wenger's future. 
He was probed further as to why he held that opinion and replied: "Because he told me."
Although Arsenal dropped to sixth in the standings with defeat at the weekend, Pulis remains a great admirer of the coach.
"I think he's the greatest manager Arsenal have ever had. They could finish in the top four and win an FA Cup — that's not too bad is it?" he added.
"I don't think respect counts now. People live for today. If you're asking me what Arsenal should or shouldn't do I'm the wrong person."
​