Arsenal
Wenger: Arsenal can't compete without fans' support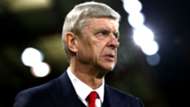 Arsene Wenger has told Arsenal fans that his team needs their support to have any chance of competing for trophies this season.
Two consecutive defeats look to have all but ended the Gunners' Premier League title hopes and have brought on another wave of the fan unrest that has plagued the Emirates Stadium in recent years.
Wenger is out of contract at the end of the season and under pressure once again due to Arsenal's failure to win the league championship since the 2003-04 campaign, but claims there is still plenty to play for on three fronts.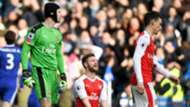 Arsenal sit in fourth place in the English top flight, 12 points behind leaders Chelsea, and have FA Cup and Champions League ties against Sutton United and Bayern Munich respectively coming up before the end of February.
"We have a big fight in the Premier League, a big fight in the Champions League with a big game [against Bayern] coming up, and we still have the FA Cup as well," Wenger said.
"We want to do well in all three competitions and that's why it's important that we focus, respond and get our fans behind the team, because this is an important and very sensitive part of the season - and we have to respond to disappointment together.
"Our fans have been consistent and have a high level of expectation, as I have as well. But I don't feel it is absolutely clear. You cannot be a fan until last Tuesday and not be a fan anymore and not be behind the team this Saturday, it doesn't make sense.
"We fight with Man United, Man City, Liverpool - they have big expectations as well and big histories. We are in a fight there, we absolutely have to be united or we have no chance to do it.
Wenger: My future is not at stake
"You have Tottenham [as well] - everyone is in the fight and everyone is behind their team. We have to do exactly the same, even if we had two disappointing results.
"I want the fans to be behind the team. But at the same time, I am not fool enough not to know that the first priority is us and our dynamic inside the team that will create and facilitate the support of our fans. That is down to the quality of our performance."