African All Stars
'We can stop Zaha,' says West Ham United defender Diop ahead of Crystal Palace tie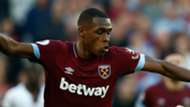 West Ham United defender Issa Diop is confident that his side can stop Wilfried Zaha when they meet with Crystal Palace in Saturday's Premier League game.
The Cote d'Ivoire international has scored three goals this season and contributed one assist to help Palace to the 15th spot in the log.
Against Brighton and Hove Albion, the former Manchester United winger was a constant threat to the Seagulls and won a late penalty for Roy Hodgson's men in their 3-1 loss on Tuesday.
After back-to-back victories over Newcastle United and Cardiff City, the France youth international is hoping they can continue the winning streak and halt the threat of the influential forward.
"Zaha is a very good player. He is very quick, strong and has good skills, but I hope we can stop him," Diop told club website.
"Palace is a different game from Cardiff, because they have very different players who like to run with the ball, like Zaha and Andros Townsend, so we need to work on how to stop them, to stop Crystal Palace and how to win this game.
"As a squad, we are very happy with our two wins in the space of a few days but now we are focused on Crystal Palace. We are more confident, of course, because we won those two games, but we need to stay at the same level for this weekend against Palace and I hope that we win.
"It's very good to win back-to-back so we are very happy, and I hope we keep going like this, this weekend."