NPFL
'We are suffering from fatigue'- Lobi Stars' Ebube Duru cries out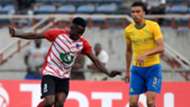 Lobi Stars player Chidiebube Duru believes that fixture congestion has left him and his teammates battling with fatigue and injury knocks ahead of their top-flight encounter with Enugu Rangers at the Nnamdi Azikiwe Stadium in Enugu on Wednesday.
The Pride of Benue have played no fewer than seven matches in less than three weeks because of their participation in the Caf Champions League in which they got to the group stage before exiting. Duru asserted that this exposure has made them prone to injuries and fatigue.
Duru expressed that it wasn't ordinary the way Sunshine Stars beat them 3-0 in the last 16 minutes of their encounter in Akure. The number of matches they have played have started taking its toll on them but they are unyielding in their resolve to return Lobi Stars to the continent yet again at the end of the season.
"I will say we are suffering from fatigue and injuries because of the many matches we have played but we are still doing our best to ensure that we end the season in the top three and qualify for the continent from the playoffs," Duru told GOAL.
"It has not been easy for us but we have been doing our best to ensure that we do not allow what we passed through to affect us. We have serious-minded management that doesn't joke with our welfare but the games we have played in the last few weeks are many. It is because of our involvement in the Caf Champions League and we are ready to make the sacrifice.
"We have some of my teammates that are down with injuries and knocks but we have enough players that can come in for those that won't be able to play. We have very young players that have just been bought and they are doing well for us. We hope to give a good account of ourselves in Enugu."
Duru is a Nigeria U23 left-back and has helped Lobi Stars to fourth position in the NPFL Group A with 21 points from 21 games.