UEFA Europa League
WATCH: Ljungberg vs Larsson - Swedish or Not Swedish?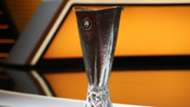 Henrik Larsson and Freddie Ljungberg and proudly count themselves among Sweden's greatest exports.
But what about the typewriter? Or Rye bread and salmon? Are they as Swedish as Bjorn Borg?
Former Sweden internationals Larsson and Ljungberg put their knowledge of their home nation to the test as they went head-to-head in the Swedish or Not Swedish game.
UEFA is inviting fans to win the chance to play on the Friends Arena pitch, the day after the Stockholm stadium hosts the UEFA Europa League final on 24 May.
Coached by Henrik Larsson and Freddie Ljungberg, two teams will contest the Stockholm Showdown the day after the winner of the 2016/17 Europa League is determined. The competition prize also includes a a full personalised adidas team kit, adidas football boots of their choice, complimentary flights, hotel and match tickets. - Click here to enter