Premier League
Wanyama not surprised by Arsenal win, eyes league victory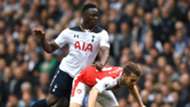 Kenyan midfielder Victor Wanyama says his Tottenham Hotspur side were sure of beating Arsenal even before setting foot to the pitch on Sunday.
Being at home, he says the fans motivated them and that it was only good if they rewarded them with a win, a thing Dele Alli and Harry Kane delivered. "I'm not surprised because we worked very hard and wanted to win so badly. That's what happens when you want to win and you are at home. We had great support and were full of confidence."
Makwatta delighted after making debut in Zambia
"I think it is good (the Arsenal win) but there are bigger things to look at. That is just us getting better and having a better season than last. Hopefully, we will be finishing strong and achieving a nice thing as well."
The Harambee Stars Captain insists that Tottenham Hotspur are keen on piling more pressure behind Chelsea in an effort to lift the premier league trophy. "It is what it is," said Wanyama, when asked if Tottenham's good form has come too late. "They [Chelsea] are where they are and we are trying to give them pressure. You never know. We hope to continue the winning streak and see what happens.
"All the games remaining are very tough. West Ham are a good side so it will be a big task but hopefully we can work as we have been and get the maximum points," he told Sky Sports.
They are four points behind Chelsea who have 81 from 34 matches.