Premier League
Wafa chief laments football ban in Ghana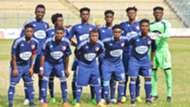 Wafa general manager George Ofosuhene is the latest to voice his concern over the suspension of football related activities in Ghana. 
The sport has been brought to a standstill - indefinitely - following a recent corruption and match-fixing scandal of the Ghana Football Association. 
The domestic league and the FA Cup are just two of the top competitions that have been halted on order of the Ghanaian government. 
"The ban is affecting us a lot," Ofosuhene said. 
"Players have to travel [but] there is a ban on the Ghana Football Association not to operate, so even if you want to transfer a player or a player wants to travel, [it's not possible].
"Those who need introductory letter, those who need to go for ITC to travel, nothing is working
"Wafa is a club that does not prevent its players from travelling when an offer comes. 
"The league should have been in progress. 
"As a football administrator, I will say it's a general problem and football is going down."
In the interim, the authorities have set up a five-man committee to manage football in the country.
The unit will be chaired by renowned businessman Kofi Amoah, who was the chairman of the Local Organizing Committee for Ghana's hosting of the 2008 Africa Cup of Nations. 
Former Black Stars captain Abedi Ayew 'Pele', Osei Kofi and Eva Okyere are the other members of the committee. 
The team is expected to hold meetings with Fifa and Caf in the coming days to discuss the current situation of football in Ghana.