Gaming
VOTE NOW | Ramos, Kompany OR Van Dijk? Who resembles more to AJAX of Call of duty: Black Ops 4?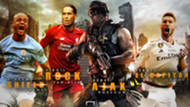 The new version of Call Of Duty: Black Ops 4 was released last week, and gamers are now getting used to the characters and new options available within the game.
In fact, in Goal.com, we want to know more about the 10 specialists of Black OPS 4, and the best way to do it is to compare them to who we know best: football players.
Hence, we will be comparing each specialist to 3 footballers, and will give you the chance to choose the one who matches the best with him, to have at the end a team of 10 players matching with the 10 specialists of the game.
Our specialist of the day is AJAX: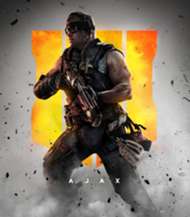 Ajax is a beast known to barrel down through enemy lines and while providing much needed cover to his colleagues while they rely on him to do the dirty work.
Ajax has access to special equipment which staggers the enemy, leaving them susceptible for detrimental attacks that follows.
His character is physically imposing and could potentially be a real force to be reckoned with.
Top defenders with similar characteristics:
Sergio Ramos (Real Madrid FC):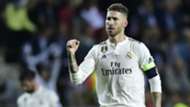 The Spaniard is a warrior, someone who you can depend on when you really need some motivation. The center-back has been a core member of the Los Blancos on both ends of the pitch.
While he may not possess the physical dexterity of the next two on the list, he has attitude to break an offense by any means possible as evident during the recent Champions League final against Liverpool.
Real Madrid owe a lot to Sergio Ramos. His 10+ years of servitude in Madrid has seen him as grow from a dynamic and rash 20-yr-old colleague of greats like Ronaldo, Roberto Carlos and Zidane to playing multiple positions while honing down in the center-back role that best suited his strength, an incredible vertical jump, quickness and player marking.
And most importantly, when Real Madrid need someone to get that crucial win, there is only one name that comes to mind who at some point in the dying minutes could jump higher than the opposition and nick one in. That is Sergio Ramos.
Virgil van Dijk (Liverpool FC):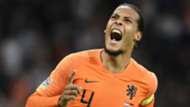 A complete defender, the six foot four inches frame of Virgil van Dijk, is one that players watch out for when it comes to set pieces. Not only will he most likely win a 50-50 aerial duel, the Dutchman is also comfortable with the ball on his foot.
The center-back's imposing presence on the field is only supplemented by his pace which makes the best of the opponents second guess van Dijk's response to what they have planned.
He has the potential open up the pitch and create space for the offense to play their part. With his accurate diagonal passes, he has the ability to take outfield players out of the game with one play. That said it is quite clear that since his arrival at the Kop, opposition teams now look at the squad and notice the immense impact that van Dijk has played. Livepool is no longer the defensively weak team that they were always known as in recent years.
Vincent Kompany (Manchester City):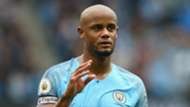 Undoubtedly the most influential player in Manchester City's recent success, Vincent Kompany has surely established himself as one of the world's best.
Since joining the club in 2008, Kompany has remained one of the few players who several of the club's managers have counted upon for leadership on the pitch for those around him.
An intelligent defender with a knack of entering a tackle at the right time, perfect strength and aerial ability, he is one of the few players that every manager would love to have in their squads.
At 33 and marred by several injuries, the Belgian captain has lost his ability to feature for the citizens day-in and day-out, however during his prime, he was a rock with high level of confidence while improving those around him.
All things considered, with Kompany comes great accountability, defensive positioning, incredible strength and most importantly consistency. That said, he is deservedly the one to wear the captain's armband each time he steps on the field regardless of the number of minutes he gets to put in. He will always be one players look for when it comes to inspiration.
So in your opinion, who is the player that matches the best with AJAX? Vote below: