SoNy Sugar
Vihiga United pick up the pieces after GOtv Shield tumble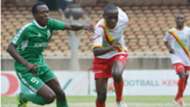 Vihiga United head coach Edward Manoah says the primary target is to guide the team to the Kenyan Premier League next year.
The Western-based side finished fourth in the GOtv Shield after falling 2-1 to Sony Sugar in the playoff on Friday at Kasarani Stadium. Manoa has conceded the team has not been in great form of late but has everything to enable them to dine with the big boys next season.
"I have to admit, I was disappointed with the fact that we lost against Sony Sugar. We wanted to finish third, but again we failed to score when it mattered most.
"That composure in front of the goal is missing, a problem that we have been having this season.
"Primary target is to get a promotion by the end of the season, it is what we want to achieve."
Vihiga United are third in the National Super League with 65 points, two behind leaders KCB and one less than second-placed Ushuru.