African All Stars
Victor Wanyama picks self and five other EPL best midfielders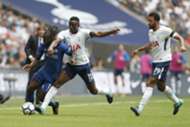 Chelsea midfielder N'Golo Kante and former Manchester City star Yaya Toure are among the top six midfielders in the English Premier League, according to Victor Wanyama.
The Tottenham midfielder also picked teammates Christian Eriksen and Mousa Dembele in the list that also has David Silva and Wanyama himself.
While speaking to a local TV station, the Harambee Stars captain also revealed that he has plans of setting up his own Sports Academy in the future.
"We have been thinking about that (academy) as a family," said Wanyama in a joint interview with his elder brother McDonald Mariga, who plays in the Spanish second division with Real Oviedo.
"But for us to do that, we need corporate support because this is not something you can successfully do with your salary alone.
"We also need to think of clear structures for the continuity of the project, that's why at the moment we are creating contacts so that we can team up in the future because you cannot run it successfully if you are away."
Wanyama also appealed to the Kenyan government to set up a special kitty to support the wellfare of the former players. "My only appeal is that the government should support our legends. To recognize the contributions made by former players."
Wanyama hosted former Harambee Stars striker, the legendary Joe Kadenge in London early in the year.