Ligue 1
Verratti: Ibrahimovic was a role model who taught everyone at PSG to be leaders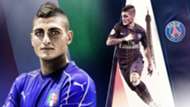 ---
EXCLUSIVE
---
Firstly, I'd like to wish you a Happy New Year.
I'm going to make you a promise: to give 100 per cent on the field. For me, supporters are the most beautiful part of football – and I don't write that just to please you. You don't earn your money to come see us play, on the contrary, you spend it. Some of you work seven days a week to come to the ground.
The least we can do for you is be at 100%. There will be matches where the opponents are stronger than us and in which we risk losing, but we will always give the maximum for you.
At the moment, the atmosphere is great at the Parc des Princes. We can see your passion, it's been taken to another level and that's good for us. In the second half of the season, there will be big knockout matches, and we're going to need you.
In my column today, I want to speak to you about leadership in the dressing room. For some time and when things were not going our way, I often heard about a lack of leaders in the dressing room following the departure of Zlatan Ibrahimovic. On the contrary, Zlatan taught us to become leaders! He is a player who improves everyone who plays with him.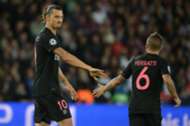 With PSG, it was impressive to see that he was still training like an 18-year-old boy. He was also an example to follow in the locker room. He was a leader. Sometimes, just watching him train, you wanted to do more to not appear ridiculous. He brought a victorious mentality to Paris.
Away from the field, Zlatan gave me a great deal. Everyone thinks that life as a footballer is always easy, but that's not the case. Look, I'm not complaining, I'm very lucky. But when you are 21, and you come to France, and you start having a lot of people around you and a lot of money, you need someone to keep you balanced. For me, it was Zlatan. I took confidence in him.
Zlatan and I have very different characters. I like him a lot, but there are many different ways to be a leader. When something did not go right, Zlatan said straight away. There must be someone like that in the dressing room, but you can't have 20 Ibrahimovics! Thiago Silva or Thiago Motta are different, for example.
Here's a little example from when we were going through this difficult period and had to talk to the press after losing 2-1 at Guingamp. It's always easy to blame a team-mate, or the coach or the club. I think that you must firstly look at yourself before looking at others, and that's how you collectively get out of difficult moments.
Not everyone was at 100% at that time. We have seen that we've found a greater team spirit lately, that perhaps wasn't as strong before. It's also to be expected because when you are in a difficult situation, you lack confidence, and when you lack confidence you're looking to do more.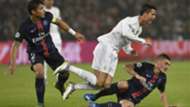 We can see that at training, too, that things are a little different. We train a little more and speak a little less. It's an important point.
There is a strong core in this team who have known each other for four or five years, and that's useful when a new player arrives. They must quickly learn that there is no margin for error at PSG. Zlatan Ibrahimovic ensured we knew that and we still do.
RUMOURS: Memphis a shock PSG target
Some players could arrive in France and think that it's going to be easier, but it's not like that. It's a different kind of football, but not easier. The club is making a great effort and we can't stay third.
Thiago Silva and Thiago Motta are the real leaders of this team. I am still a young player and I am learning from them. They just have more experience than me. That does not stop me from talking in the locker room when something's not right.
There is no shortage of leaders in the dressing room now that Zlatan's gone, they are just different. But he left us his mentality. And that is what we are trying to convey to those who were not there.