A-League
VAR must be suspended immediately, says Mark Bosnich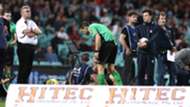 With the Sydney derby overshadowed by another questionable VAR intervention, Mark Bosnich wants it suspended immediately to ensure A-League fans don't abandon the competition.
Western Sydney Wanderers had a goal disallowed in the second-half against Sydney FC with VAR interjecting to point out interference from an offside Jaushua Sotirio in build-up. 
The decision left coach Markus Babbel fuming, whose angry reaction saw him sent off and has Bosnich adamant the VAR has to be scrapped sooner rather than later.
"We have got to suspend it immediately in my opinion," Bosnich said on Fox Sports.
"It's been such a distraction, such a farce, such a talking point that it is turning people off the game.
"If this isn't rectified...you will not just have the active fans, you will have 95 percent of all your fans not going and not watching.
"This cannot continue. No fans, no game. They are the number ones. If they don't like something - like they don't like this in their droves - and you stand back and say 'bad luck to them', they're going to walk away.
"This is not Europe, where it is the number one game. We are probably the number four game, equal with rugby union at the moment. People have got other choices. 
"It's got to stop and it's got to stop now. This has gone beyond tipping point, you are experimenting with players' livelihoods.
"This game is going to go under if this continues."
With the benefit of VAR intervention, Sydney FC ended up claiming a 2-0 win over the Wanderers, who have now won just one of the last 14 derbies.
Referee Chris Beath was asked to clarify his decision to disallow the goal after the match and said Sotirio was clearly in an offside position and interfered with the play.