Super League
Usop wants players to draw confidence from fantastic away win at PKNS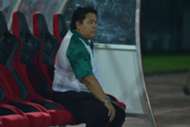 ---
 BY       OOI KIN FAI      Follow on Twitter
---
Sarawak won their second game on the road in as many matches when they defeated PKNS at the Shah Alam Stadium on Saturday evening. Played under heavy rain and poor visibility, especially towards the end of the first half, the Crocs got everything right in their game plan to come away with a well-deserved 3-1 win.
Head coach, David Usop was understandably pleased during the post-match press conference but pointed out that it was an even game and his team won only because they took their chances and PKNS didn't.
"Sometimes we play good and sometimes we play bad. Today we played compact because we know PKNS are not a team to look down on. They also had a lot of chances, just that we managed to convert ours. I'm very happy with my boys who fought hard," said Usop.
Usop deployed Tommy Mawat and Nur Shamie on the flanks and their pace on the counter attacks caused the home side a lot of trouble time and again. A plan that Usop was pleased to see came to fruition.
"We looked at history that PKNS can win big and concede a lot also. We know their strikeforce is a very experience one but a slow one. We used our speed and our flanks well," explained Usop.
Another change that influenced the game was the withdrawn role given to forward Mark Hartmann. The Filipino was in the hole behind Mateo Roskam and it was his two long range strikes that got the visitors their first two goals, albeit Roskam converted the rebound on the first effort.
"Mark has been performing the last few matches and scored a few from distance. We played his deeper today with a free role so that he can drop deep to collect the ball. He played well as a number 10 / number 8," added Usop.
The win puts Sarawak up to 8th spot in the Super League before the commencement of the other fixtures on Saturday and it is one that the coach hope will spur his players on in their upcoming match against reigning champions, Johor Darul Ta'zim (JDT).
"Our team has been performing well lately, just struggling with goals. I hope with the ones we scored today, it gives the team confidence ahead of the next match," said Usop.