A-League
Usain Bolt to be given up to six months to shine with Central Coast Mariners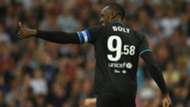 Usain Bolt will be given every chance to earn a professional contract with A-League club Central Coast Mariners.
The Jamaican committed to an indefinite training period with the Australian side on Tuesday as he looks to become a footballer after retiring from athletics.
Originally set to be a six-week trial, the Mariners have confirmed Bolt could now be given up to six months to prove he has what it takes to make it in the A-League.
"His training program will be structured to see if he can reach the level of play needed to earn a professional contract," Mariners CEO Shaun Mielekamp said.
"This may take three weeks, this may take three months or this may take six months. It could take longer.
"Only time will tell, but it's exciting to see what this will do for our region. The importance for us right now is to look after an athlete coming here to try and become a professional player."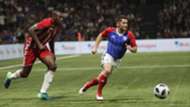 Bolt is expected to arrive in Australia on August 18 and will live and train on the Central Coast.
Mariners coach Mike Mulvey will be key to whether the eight-time Olympic gold medalist will grace the football pitch, but won't be the only one behind the final decision.
"(Bolt) has to impress the coach, he has to get to a level where the coach is confident he'll play regular football and once that decision is reached he'll be offered a professional contract," Mielekamp said. 
"This is about training and developing Usain - we're all in this together. It's not going to be one person making the decision yes or no, it's a collaborative effort."
The move to bring Bolt to the club has been met with plenty of criticism on social media but Mielekamp stressed how important his arrival will be. 
"You know we are a small club, you know we need to grow and if this is an opportunity for the Central Coast Mariners to grow in the long-term, then it's an opportunity that I'm sure no-one can deny us," he said. 
"We've been inundated with sponsor calls this morning which has been exciting and for us that long-term effect is something we've got to be mindful of."
Mielekamp confirmed Football Federation Australia have been supportive of the Mariners move to lure Bolt Down Under, but shot down rumours he could wear a 9.58 shirt number should he earn a contract.