World Cup
'Unique' Lingard hailed by Carrick as England benefit from Man Utd moulding
12:25 PM GMT+4
03/07/2018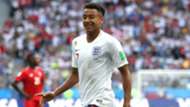 Jesse Lingard is considered to be "unique" by Michael Carrick, with the hard work Manchester United have put into his development now benefitting the Red Devils and England.
The 25-year-old has always been held in high regard at Old Trafford, with his potential spotted early as he made his way through a famed academy system.
Lingard was, however, forced to be patient as he waited for his big break, with it only under Louis van Gaal in 2015-16 that he was given regular opportunities in which to prove his worth.
Rapid progress has been made from there, including winning goals at Wembley and 14 international caps, with Carrick of the opinion that a man now starring on a World Cup stage was always destined to shine for club and country.
A former team-mate of the United star told the Red Devils' official website: "I think his movement – he moves off the ball very well. It's something that sounds quite simple, but it's difficult to defend against.
"He senses where the space is and how to use it. I wouldn't necessarily say he's a dribbler with skills and tricks but he's dynamic.
"How he plays, he is unique in some ways. You don't see so much of that in the game as everyone wants to get on the ball and do something on the ball. Off the ball, he's very effective."
Carrick will get the opportunity to try and take Lingard's game to even greater heights in 2018-19, with the ex-England international joining Jose Mourinho's coaching staff at Old Trafford after slipping into retirement.
He added on a player he was aware of well before he made his senior bow: "I remember watching Jesse over on the back pitches [at the Aon Training Complex] when he was a young lad.
"He must have been 15 and I was seeing this tiny little kid running around. You could see then the ability he had – his movement, awareness and all that sort of stuff.
"It was just about his physicality and giving him time to develop. You can't give enough credit to the staff behind the scenes for letting him take his own time to develop and nurturing him in different ways.
"Now, obviously we're getting the rewards from that. He had a great season [in 2017/18], scoring a lot of goals and he is now a big player for us."
Lingard netted 13 times for United last season, while providing five assists in Premier League competition, with that form carried over into a World Cup campaign which currently has him readying himself for a last 16 showdown with Colombia.