United States U20
Under-20 World Cup provides harsh lessons for promising USA team
When it comes to the Under-20 World Cup, Tab Ramos is starting to live his own version of the movie Groundhog's Day, where the star keeps living the same day over and over again. For the third straight Under-20 World Cup, Ramos had to watch his U.S. team lose in the quarterfinals to a smaller nation boasting its own golden generation, reaching new heights at the expense of some good, though not quite great, U.S. teams. 
In 2015 it was Serbia beating the Americans in a shootout on the way to the Under-20 World Cup title. In 2017 it was an impressive Venezuela beating the United States in overtime on its way to an appearance in the Under-20 World Cup final. 
Ecuador became the latest foil, outplaying the Americans on Saturday on the way to a fully deserved 2-1 victory. At first glance that result might sound like an upset, but anyone who watched South American Under-20 qualifying was fully aware how strong a team Ecuador has, and the Americans found that out on Saturday. 
Ramos rightly described Ecuador as a team with no holes when asked about his opponent the day before Saturday's quarterfinal. Ramos knew full well what Ecuador was capable of, but he also had confidence in his team's ability to play a style capable of beating a strong opponent, as it did in shocking France in the round of 16. 
What Ramos wasn't expecting was a flat start to the match for his team, with Ecuador dominating the early play and the Americans missing a chance to make an early statement. An early U.S. goal would have forced Ecuador to take more chances, but the South Americans were allowed to settle into the match comfortably. The U.S. central midfield was dominated on the day, with the trio of Alex Mendez, Paxton Pomykal and Chris Durkin unable to match the work rate or effectiveness. 
Even with that clear disadvantage, the United States was still in the match, and dominated possession in the second half. Part of that was down to Ecuador very clearly sitting back on its 2-1 lead, which in itself was a clear sign of respect for a U.S. team that had shown at the World Cup an ability to punish opponents that weren't disciplined defensively. Ecuador hadn't shown that sort of willingness to sit back and defend all World Cup.  
Once the South American outfit sat back and used its athleticism to limit the U,S. team's chances, the Americans found the going much tougher, and wound up surrendering some dangerous chances as they pushed numbers forward in search of an equalizer. 
The tying goal never came. Sebastian Soto was unable to put away the few chances that came his way, while Mendez never did make the impact he made in Concacaf. Ulysses Llanez did provide energy off the bench as a halftime substitution, but it still wasn't enough to stave off elimination.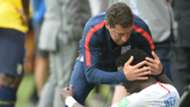 "We didn't play our best game. There's no doubt," Ramos said. "I think we've played better in this tournament, including when we lost the first game against Ukraine." 
If there is a greater degree of disappointment among U.S. fans about this latest Under-20 World Cup exit, it is because this team was billed as a special one. Ramos himself called it the best team he's had, and after the dominant showing at last year's Concacaf Championships, there was a sense that maybe, just maybe, it was the USA's turn to have a special generation, one capable of a historic tournament run. 
This U.S. team didn't make history, but it leaves Poland having played some memorable matches and an ambitious brand of attractive attack-minded soccer that gave the Americans a chance in every match. There were also memorable victories against Nigeria and a France side that was arguably the most talented team in the tournament. 
From an individual standpoint, there were plenty of bright spots.  
Tim Weah made the type of consistent big plays expected when he was named to the team. Chris Richards was arguably the team's most consistent player, delivering five strong performances and showing the quality that made Bayern Munich buy him from FC Dallas. Sergino Dest shook off a disappointing showing in the opening loss to Ukraine to show the form that has some calling him the future of the USMNT right back position. Sebastian Soto scored a team-high four goals and has the look of a promising USMNT striker prospect at a position that needs new blood. Chris Gloster was solid every match at left back, looking every bit like a future national team starter. 
Not every player lived up to expectations. Mendez came into the World Cup with very high expectations, but never made the kind of big plays expected of him. Durkin struggled with the workload of being the lone defensive midfielder. Konrad de la Fuente showed some flashes, but he didn't have anywhere near the impact expected, especially not for someone who started all five matches. Mark McKenzie was named team captain before the tournament began, but wound up being limited to just one start, losing his spot to Aboubacar Keita, who started the World Cup well but struggled in the final three matches. 
What can't be forgotten is the reality that the Under-20 World Cup is a youth tournament, and none of these players are the finished product. Just as there is no guarantee that the top performers will go on to be national team stars, those players who didn't have good showings aren't doomed to have their careers defined by a youth World Cup. 
The U.S. team's 2019 run at the Under-20 World Cup will be remembered for the big win against France, and Tim Weah's big plays, but it's true legacy will be established in the coming years, as the team's key players move on and move up the national team pipeline.  
This U.S. team may not have lived up to some of the lofty expectations placed on it before the tournament, but the Americans did prove that they were a talented group, with several promising prospects with the ability to go on and do much more with their careers than simply play well at a youth tournament.