PSL
Tshabalala: Kaizer Chiefs players will continue to fight for Komphela
10:54 PM GMT+4
12/07/2017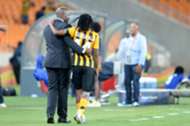 Kaizer Chiefs midfielder Siphiwe Tshabalala has dismissed claims that some senior players didn't throw their weight behind Steve Komphela because they wanted him gone. 
The 32-year-old said when the team loses, it's not only Komphela who should take the blame but the players as well.  
Shabba, who won the PSL Goal of the Season award on Monday, stressed that their relationship with Komphela is still as healthy as it was when he first came in as their coach. 
He vowed that the players will continue to fight for the 50-year-old mentor by winning as many matches as possible in the upcoming campaign. 
"It's not true that we weren't supporting the coach. We have a lot of respect for him. Sometimes things don't go your way; that's how life is. If he loses, we all lose, and If he wins, the entire team wins as well," Shabba told the media. 
"We have a healthy relationship with the coach because all the players understand him," he said. 
"We will fight for him on the pitch next season. We want to prove that on the pitch by winning our games," Shabba added.
Amakhosi last won a major trophy in 2015, and next season will be a defining year for Komphela.