Transfers
Transfer rumours: Borussia Dortmund interested in Tottenham's Victor Wanyama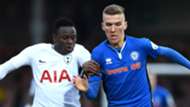 Borussia Dortmund have reportedly entered the race to sign Victor Wanyama from Tottenham.
Reports from Germany indicates that the Bundesliga club is interested in signing the Kenyan captain ahead of next season. Dortmund boss is said to be working on overhauling the team's midfield and Wanyama could be a candidate.
The 26-year-old missed the first half of the 2017-18 season with an injury, and was often used as a substitute upon his return. Despite sparking interest from some of the Premier League's biggest sides, Wanyama has maintained that he will remain with Spurs, with whom he has a contract until 2021. 
"I always don't respond to rumours and all those are rumours to me, I still have a contract with Spurs and that is what I want to see through," Wanyama told Goal in a recent interview.
"I did not have a good season with the team because of injury and my aim now is to work hard during this break and return for next season even stronger and help them perform even better.
"I am happy at Tottenham and I am committed to the team. I am not aware of anything [regarding a move away] and I am very fine and happy where I am."
Wanyama made 47 appearances in all competitions in 2016-17, his first season with Spurs, and is looking forward to returning to a similar level of output after overcoming a knee injury in 2017-18.