Opinion
Top-three battle, Mohamed's challenge and more talking points ahead of Liga MX Jornada 4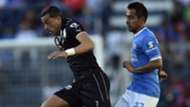 After this round of matches, we'll be a month into the Liga MX season. The table will be in flux much longer, we know that from previous tournaments, but this weekend is an important one for a number of teams that need to reverse course - or to keep the momentum they've established going. 
Here's what everyone is talking about as we go into the fourth round of the Liga MX Clausura:
---
IT'S A BIG WEEKEND FOR ... ANTONIO MOHAMED
---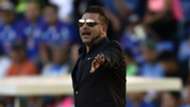 If the eyes are the window to the soul, it seems Antonio Mohamed is trying to hide what's hidden deep in his. The sunglass-sporting Monterrey manager will have to tip his hand some this weekend, though. His Rayados side is undefeated, but the last two weekends have brought labored draws - both of which were changed by players getting sent off. In the second round, it was Mohamed's men who benefitted from the red cards, eventually coming back to draw Chivas 2-2 after falling behind by two goals early. The tables were turned last weekend. Walter Ayovi saw red for a high boot and Monterrey lost a two-goal lead to Cruz Azul in another 2-2 draw.
To add to the challenge of replacing the suspended Ayovi in the midfield, Mohamed also will be without winger Carlos Sanchez, who injured his hamstring while scoring in last weekend's contest. Mohamed handed Colombian attacker Edwin Cardona, who he feuded with most of the Apertura, a start during the midweek cup win over FC Juarez, and Cardona seems like the perfect answer to life without Sanchez. Yimmi Chara, who replaced Sanchez after the injury Saturday, is another option. Mohamed may need only to hand the keys over to forward Rogelio Funes Mori, who has scored five of his 36 league goals against Leon, more than against any other team in the league.
Still, Leon is not an easy team to beat, and the Monterrey back line's fragility could haunt the home side. While it is a clash of styles, though, Leon hasn't been finding the back of the net as often as it did in the Apertura. Mauro Boselli, who scored a dozen goals between the Apertura and the Liguilla, is still looking for his first goal, though his manager isn't concerned about the drought.
"There are streaks, but he has shown that in the team he has a tremendous amount of goals scored," Torrente said.
Mohamed will hope his team selection works out and his group functions well so Monterrey can continue its strong start. Fans still seem to like the manager, but that won't be the case if he misses the Liguilla again like he did last tournament.
---
DON'T MISS ... PACHUCA vs. TOLUCA
---
The Liga MX table is so tight that despite being only three weeks into the season, two teams coming off defeats are sitting in second and third. It will be No. 2 Pachuca against No. 3 Toluca on Saturday, and even apart from the fact that it's a top-three matchup, it should be an entertaining contest.
Both sides were handed setbacks last week. Pachuca again couldn't get past nemesis Necaxa, the same team that knocked it out of the playoffs last month, losing 1-0 on the road. More surprising was Toluca falling to Chiapas at home, 1-0. It was playmaker Rubens Sambueza's full debut, but the Red Devils weren't able to gin up much of an attack to trouble Sambueza's former Club America teammate Moises Munoz, now the Chiapas goalkeeper.
Pachuca will be without coach Diego Alonso, who is suspended because of continual complaints about officiating, but will be able to count on Hirving Lozano. It also will count on the fans at the Estadio Hidalgo, where Tuzos have a 24-match undefeated streak across all competitions. This is the first time Toluca is taking to the road this season, so it will be fascinating to watch how Hernan Cristante's side responds to Pachuca's multi-pronged attack and deals with the pressure of one of the league's toughest places to win.
---
KEEP AN EYE OUT FOR ... SUNDAY SURPRISES? 
---
The season is still shaking out, but Sunday's slate of three matches looks like it could be rife for upsets. 
The day opens with Pumas hosting Necaxa, a team that has been very difficult to score against since returning to the top division in the 2016 Apertura. Alfonso Sosa's men are struggling in the cup, but he said midweek that he wasn't as concerned about those matches as getting points in the league. Pumas will have forward Nicolas Castillo back from suspension and Matias Britos, who came off the bench in last week's 1-0 victory at Leon, could make his first start of the season as well. But Necaxa is coming off its first win of the campaign and could present a stiff defensive test, though it also will have to deal with playing on the road and in the midday sun against Pumas.
Tigres, which is back up and running after a 4-2 win over Club America, travels to Chiapas to take on Jaguares. The reigning champion will be the heavy favorite, but Chiapas' win over Toluca puts its record at a win and a loss this season and showed hints that the team may be establishing a cohesive idea under Sergio Bueno. Starting to get an idea of a playing style is not enough to top the ultra-talented Tigres, but Chiapas might be able to turn Tigres back into the version that showed up the first two weeks in a draw with Santos and a loss at Atlas.
And in the nightcap, Santos Laguna hosts Puebla. Santos' defense is much improved and Puebla's is not, so the home team should be able to hold serve. But Alexis Canelo, whose three goals tie him atop the scoring charts at this early stage, will do his best to test Nestor Araujo and Co.
While the Saturday contests are perhaps a bit sexier, it's still worth tuning in on Sunday to see if one of the underdogs is able to provide a shock.
---
QUOTE OF THE WEEK
---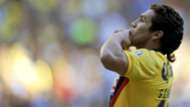 "Putting on the No. 10 shirt is fundamential for a player, even more because of the players who made history in this team. We all know about the emblematic Cuauhtemoc Blanco, myself and now Cecilio who takes it and hopefully he shows why he was signed, to make the supporters who always support this team happy." - Salvador Cabanas, former America forward
There is pressure on Cecilio Dominguez, the 22-year-old Paraguyan who signed with Club America during the offseason and is awaiting his debut. The 22-year-old got backing from the beloved ex-America No. 9, then No. 10, Salvador Cabanas. America hosts a resurgent Veracruz team that comes into Estadio Azteca with two victories and one defeat. Dominguez may be handed his debut, and some more attack would be welcome for an America side that hasn't looked unified going forward and is still searching for its first victory of the Clausura.