Africa Cup of Nations Qualification
Togo's Claude Le Roy: I once qualified for Afcon after losing two home games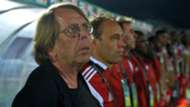 Togo coach Claude Le Roy is not concerned about his team's poor 2019 Africa Cup of Nations qualification campaign, saying he has previously faced tougher situations as they now prepare to face Gambia away on Tuesday.
Le Roy has also coached Ghana and Congo Brazzaville in the past. After three games, Togo are winless and stranded at the foot of Group D, having lost to leaders Algeria and drawn with Benin and Gambia.
"Now there are three games left to play, which means it's not over yet," Le Roy was quoted as saying by TogoFoot.
"I once qualified for Afcon after losing two home games. So this is a situation I am familiar with. We'll have to go on Tuesday with the same intentions, think about playing and try to bring back home the three points."
The veteran Frenchman has coached six African national teams starting with Cameroon 33 years ago, leading them to an Afcon title in 1988.
Togo will once again be missing captain and seasoned striker Emmanuel Adebayor who was also not available for personal reasons when they drew 1-1 with Gambia at home on Friday.