A-League
Ticket prices making it difficult for A-League fans, says Dario Vidosic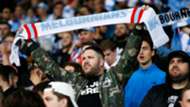 Melbourne City secured their spot in the semi-finals with a clinical 2-0 win over Brisbane Roar on Friday night at AAMI Park but sadly only 7,757 fans turned up to watch it.
It was nearly 2,000 fewer than City's season-average crowd and though Melbourne Victory and Adelaide United attracted 15,502 in the other final, both disappointing figures point to larger issues at play.
As a player that's featured in the Bundesliga with Nürnberg, Dario Vidosic knows the power of a big crowd and is worried the A-League has got its pricing model wrong.
After another stellar individual performance against Brisbane, the City midfielder admitted that though disappointing to see so few fans, he couldn't blame them for staying away.
"We would love to have a full stadium, but seeing the ticket prices as well it is difficult," Vidosic told Goal. 
"It's quite a lot to ask. Even overseas, maybe even Bayern Munich have cheaper tickets there. So I'm not too sure if it's about making money and that but we would love to have more.
"Even if you halve the ticket prices and double the crowd...it looks a lot nicer when you have 15-20,000 or maybe more if you had the prices a little bit more reasonable.
"The cheaper tickets were alright but the top tier ones at like $130 that's a lot to ask especially if you have a family and then on top of that the cost to arrive and food it's a very expensive night. We can't blame people for not turning up when the prices are so high."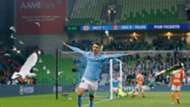 One club that has defied the trend this season to attract healthy numbers is Vidosic's semi-final opponents Newcastle Jets.
The Jets are hoping to beat their home-record crowd of 24,000 on Friday night as they look to the fans to give them an edge in their first finals appearance for eight years.
Having beaten Newcastle 3-0 last time they met however, Vidosic isn't too worried about the crowd's potential impact. 
"Last time we played them they also had a good crowd," he said. 
"It was second versus third, we were in a good run of form, they had a good crowd and we did well from the start.
"We dominated possession. We were very dangerous and probably should've put the game to rest in the first half."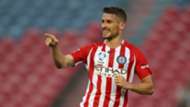 Despite a dominant team performance against the Roar, the 31-year-old stressed it wasn't perfect and that City has been looking closely at what went wrong. 
"It was good, probably the last 10 to 15 minutes of the first half we were forcing it a little bit," he said.
"We didn't create numbers on the wings. We perhaps got a little bit inpatient when the goal didn't come.
"We need a very, very good performance against Newcastle."