Manchester United
Three goals for £20m a year: Is this all Alexis has to offer Man United?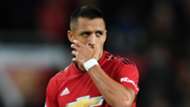 That's three wins in a row for the first time this season for Jose Mourinho and Manchester United.
With games against Wolverhampton Wanderers, Derby County and West Ham coming up before Valencia in the Champions League in two weeks' time, there is certainly the potential to add more victories and gain more confidence.
The defeats to Brighton and Tottenham were setbacks. United's profile is so big that any kind of loss is taken as a sign of impending crisis. Two in a row and we're in meltdown territory.
Throw in Jose Mourinho's tax charge in Spain, his rant towards the press in the aftermath of the Spurs game and a pretty high-profile fight through the media with his most expensive player, Paul Pogba, and you begin to understand United is less a football club and more a soap opera.
Burnley, Watford and Young Boys are not exactly names to strike fear in the heart but United have been convincing in each of their last three games. Pogba, in particular, has come on leaps and bounds from the start of the season, while the likes of Luke Shaw and Romelu Lukaku gain consistency.
All would appear to be rosy in Mourinho's garden right now, with winnable games and gettable points on the horizon. But there are still problems to solve. Not least the issue of Alexis Sanchez.
The Chilean is playing decently. He is industrious and productive. No United player has created more chances (nine) in the Premier League this season. He is United's designated leader of counters and, in that regard, is doing his job well.
But he could be doing more. Jose Sulantay – who coached a Chile Under-20 side including Sanchez to third place at the 2007 World Cup – stated this week that Mourinho's tactics are not designed to get the best from a player of his type.
"I notice him being unbalanced and quite negative," he told El Mercurio. "It will be hard for him to return to his great level if he continues like this.
"And well, there's little help from Jose Mourinho's defensive game, which is based on long balls, skipping the sector where he plays. That should worry him. Hopefully, the picture improves."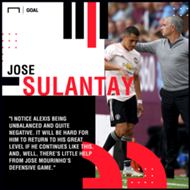 It's clear that Mourinho's football differs from the style introduced to Chile by Marcelo Bielsa but Alexis is a veteran now and should be well-equipped to obey different instructions.
Sulantay's words sound less like an explanation and more like an excuse. Besides, it's not as if Sanchez is in drastically poor form. This has been his level since joining; this would appear to be it.
Football Leaks: Uncovering the Dirty Deals Behind the Beautiful Game by German journalist Rafael Buschmann detailed upon its release the contract signed between United and Sanchez last January. It's mind-boggling.
According to the book, Sanchez earns £391,346 per week in wages and through his image rights. That equates to some £20.35 million per annum so long as United qualify for the Champions League.
Furthermore, there is a loyalty bonus of £1.12m a year. Sanchez also earns £75,000 for every match he starts.
He is a long way from 40 United goals or 40 United assists but for each of those landmarks there is £2m in the offing. If United win the Champions League, there is a bonus of £1m up for grabs and it's £500,000 for the Premier League title.
Buschmann concluded that if Sanchez stayed fit and United were successful he stood to earn £25m per year.
He is the highest-paid player in English football history. Mourinho was in such a tizzy about getting one over on Pep Guardiola and signing Alexis from under his great rival's nose that he sanctioned a budget-busting deal.
It didn't matter to Mourinho how much United would be paying. They fight with the Dallas Cowboys for the title of most valuable sports team in the world; the money doesn't matter. But Sanchez was signed to be a key player for United. Right now, he is a very expensive cog in the machine.
How much more is there to come? It'll be soon ticking on for a year since Alexis ditched Arsenal for Manchester. He's scored three goals.
In December, he'll turn 30 but has a contract at United which will run for four more years. How much more productive or prolific can we expect him to be? These are reasonable questions.
There is also a school of thought among fans of the club that Sanchez's arrival has been no good for the form of Marcus Rashford and Anthony Martial. In a sense, Mourinho is a bind with those two.
Fans would no doubt like to see the pair of them in the team more often and Martial's goal in Switzerland hinted that there is plenty left to give. But Mourinho is playing high stakes. He cannot keep giving them chances and have them thrown back in his face.
Besides, he was grumbling about Rashford and Martial long before Sanchez arrived. His tough love management style might gain little sympathy outside the club but it is bearing fruit with Shaw and there would appear to be a thaw in the relations with Pogba too.
He doesn't have to bicker with Sanchez in public. He knows in a sense what he is going to get. As a result, he is rarely taken by surprise by a bad Sanchez performance.
On the other hand, he's rarely thrilled by a good one.