United States
'There's nobody who can take my spot' - Jermaine Jones fires back at U.S. critics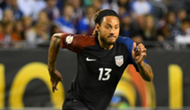 It would appear Jermaine Jones wanted to get some things off his chest.
The 35-year-old has earned 69 caps for the U.S. national team, starting all four matches at the 2014 World Cup and five games at last summer's Copa America Centenario. But some fans have advocated for a changing of the guard, with Jones set to be 36 when the 2018 World Cup in Russia kicks off.
A week after the central midfielder started a 1-1 World Cup qualifying draw with Panama, Jones passionately defended his spot in Bruce Arena's lineup during an interview with ESPN FC.
"People hate and try to find mistakes when you lose games," Jones said. "To me, the point is what I've said always: Bring me the guy who is better at that position and show that week to week in the league, against me, against other teams. I respect it and I say, 'If he's better, I step away.' I'm 35 — I can step away and say I had a good career. But right now, if you be honest, ask my teammates, ask the people inside. There's nobody who can take my spot."
Denver to host USA vs. T&T qualifier
Since debuting for the U.S. in 2010, Jones has frequently partnered with captain Michael Bradley in central midfield. The two again played together March 28 in Panama before 21-year-old Kellyn Acosta replaced Jones in the 75th minute.
That match renewed talk among some fans and media that Jones and Bradley don't complement each other as a midfield duo, four days after the U.S. rolled to a 6-0 thrashing of Honduras while Jones was suspended.
"People always say that me and Michael don't fit together," Jones said. "The criticism is always on me. If we lose a game, they always try to find the next guy who can play for Jermaine. It's never somebody else — it's always me.
"I'll be honest: That p***es me off, where I say, 'Wait a minute — when we play the big tournaments, I'm almost or always the best player on the field for this country.' But then at the end of the day, they try to kick me out when we lose games. That's not fair."
After stints with the New England Revolution and Colorado Rapids, Jones joined the LA Galaxy this past offseason. But from 1999 to 2014, the Frankfurt native — who earned three caps for Germany in 2008 — amassed considerable top-flight European experience while playing for Eintracht Frankfurt, Bayer Leverkusen, Schalke, Blackburn and Besiktas.
It's a resume that includes 37 appearances in the UEFA Champions League and Europa League, leaving Jones frustrated that U.S. fans don't hold him in the same regard as stars such as Tim Howard and Clint Dempsey.
Schweinsteiger leads MLS Team of the Week
"I want that the people respect me for that what I did," Jones said. "They respect Timmy, they respect Clint, they respect all of the people. I have no problem when you want to criticize me when I play a bad game. But if you want to go against me and say I'm a poor player and all kind of stuff, I'm sorry man, but there's nobody in that national team who have the same games and have the same success where I've been.
"I've played over 15 years in Europe at a high level. Not 10, not five years, not one year. But sometimes it's tough to look at numbers. I'm a German-American and maybe not a full American that you can sell like a product."
Jones did confirm that he hopes to take part in the 2018 World Cup and retire from international play after that tournament. Until then, however, he emphasized it remains his spot to lose.
"I missed 2010, I missed 2006, and to me 2014 was something special and I wanted to go to this one again," Jones said. "I wanted to represent this country again one time. And trust me — after that, I will watch it on a TV, the national team, I will support them. But you will not see me in a jersey anymore."