Transfers
The stats that show why Arsenal are right not to sign Mahrez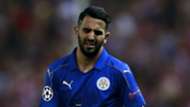 ---
COMMENT
---
It's taken longer than many predicted, but Riyad Mahrez seems finally to be on his way out of Leicester City. Having made it clear that he wanted to leave publically almost as soon as the final whistle blew on the last day of the season, many felt it would be far earlier than late July before the first bid was lodged for the 2015-16 PFA Player of the Year.
Foxes boss Craig Shakespeare revealed on Friday that the club have rejected an opening offer from Roma, but it is unlikely to be the last from the Serie A outfit as they look to replace Mohamed Salah. But why have no other clubs – namely Arsenal – not taken a punt on the Algeria international?
Mahrez would seem a perfect fit for the Gunners. With the player looking to make the next step in his career and with Arsenal looking forward to a season without the pressure of the Champions League nor the realistic expectation of winning the Premier League title, it seemed like the perfect time to bed Mahrez in and try and help him replicate the form of two seasons ago. Factor in the potential loss of Alexis Sanchez and it seemed like a match made in heaven.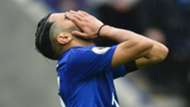 Instead Arsene Wenger has committed to bringing in the less experienced if no more exciting Monaco wideman Thomas Lemar, and continues to pursue the France international despite having two bids rejected. Mahrez is both cheaper and has Premier League experience, but his form last season has likely affected the decision-making of those, like Arsenal, who were considering a move this time last year.
Not only were Mahrez's goal and assist returns well down in 2016-17 compared to when he led Leicester to the Premier League title the season before, but his involvement in moves leading to both goals and shots were also poorer.
Get the odds on Leicester vs Liverpool
Mahrez was involved in just 16 sequences that led to goals compared to 31 in 2015-16. Sequences are defined as uninterrupted passages of play where the ball is in possession of one team, they are ended by defensive actions, stoppages in play or a shot.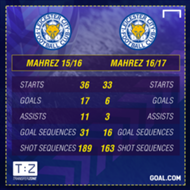 These figures equate to him being involved in just a third of Leicester's Premier League goals last season compared to over 45 per cent the previous campaign. His shot involvement was also down – 163 compared to 189 – which just cements the idea that he was nowhere near as influential as the Foxes eventually finished 12th.
It is, perhaps, no surprise then that Arsenal seem to be passing up the opportunity this time around. Serie A may beckon instead for Mahrez, and he will be hopeful the downward trend of last season does not continue into 2017-18.