Arsenal v Leicester City
The science of pressure - how the Premier League will be won and lost
12:00 PM GMT+4
12/08/2017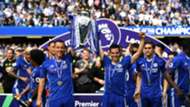 ---
ANALYSIS | Duncan Alexander
---
The 26th Premier League season is upon us and, as evidenced by the frenzied activity in the transfer market, the desire for glory has only grown more intense.
Be it the tussle between the super-managers at the top or the ferocious battle at the bottom, the teams and players who can handle pressure best will be the ones celebrating a job well done next May.
But while pressure used to be one of many intangibles at the heart of the game, alongside things such as passion and desire, we can now use cutting edge data to measure the key moments that shape games, seasons and even careers.
Advanced analytics and a bespoke algorithm are at the heart of Sure's Pressure Index, which utilises the same data that helps to shape transfer policy at professional clubs across the globe.
Fans instinctively know that some moments are more important than others: The last minute winner, the heroic tackle to prevent a one-on-one, the fingertip save in the local derby, the early strike in a relegation six-pointer. These are the fleeting dramas that get talked about for days and weeks afterwards.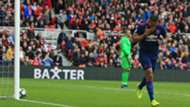 Now, with the Pressure Index, we can accurately identify the players who are consistently making the difference for their teams.
Last season Eden Hazard topped the Index in a season when he returned to the top of his game and led Chelsea to their second Premier League title in three seasons.
The Pressure Index rewarded the Belgian for making the difference in a campaign in which his team started as title outsiders but then won all of their games in each of August, October, November, December, March and May.
And it wasn't just effective attacking play that was identified, defenders such as Antonio Valencia, who was quietly one of the most impressive performers for Manchester United in Jose Mourinho's first term, also scored highly.
Opta collect more than 300 different metrics and each Premier League game produces around 2000 events, but the Pressure Index is designed to dive elegantly into this vast sea of numbers and locate the moments that shape each team's destiny.
Across all 380 games in 2017-18 and throughout all 34,200 minutes of action, you can be sure that every pressure moment will be identified, assessed and rewarded.
The Goal Pressure Index is presented by Sure, Official Partner of Chelsea FC, Everton FC and Southampton FC. Join the conversation on Twitter @Sure.