Manchester United
The Ronaldo that never was: How Memphis Depay's Man Utd career failed to take flight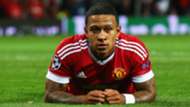 ---
COMMENT
---
He arrived at Old Trafford to the sound of comparisons with Cristiano Ronaldo. He leaves having underwhelmed even more spectacularly than Angel di Maria. Life as Manchester United's No.7 didn't turn out the way Memphis Depay thought it would.
And neither did Memphis Depay turn out to be what Manchester United fans expected. Having won a place in Louis van Gaal's Netherlands squad at the 2014 World Cup, he received rave reviews for his fleeting appearances in Brazil. A 28-goal season followed at PSV, and a £22.3 million switch to Old Trafford was quickly agreed at the beginning of the summer of 2015. He leaves for Lyon barely 18 months on, destined to be little more than a quiz question in years to come.
Van Gaal boasted of Depay's confidence when he arrived in Manchester: "I think he's one of the few highly talented boys of his age. He's full of confidence." Many likened him to Ronaldo: "I find it understandable that people can be reminded of Cristiano Ronaldo by Memphis," said former PSV youth coach Mart van Duren, and he was widely tipped to captivate the Theatre of Dreams in a way similar to the multiple Ballon d'Or winner. The player himself did little to dismiss the comparisons: "I don't want to say I can be like somebody like that, but I think I can excite the fans."
Indeed, he played up to the level of exposure away from the field. There was the outlandish dress sense, the boxing ring he had shipped from his Eindhoven apartment to his new living quarters in the centre of Manchester, the flash cars and the cocky strut.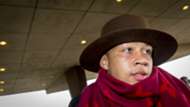 Yet on the pitch he was unable to reproduce his own performances with PSV, let alone those of Ronaldo when he was tearing up the Premier League and becoming a true world star with Real Madrid. Despite an early brace against Club Brugge in a Champions League qualifier he soon found Van Gaal's belief in him waning.
Substituted at half-time in just his fifth league game for United against Liverpool at Old Trafford, Depay soon realised that repeated poor performances would not be tolerated in M16. After being hooked at the break in the 3-0 mauling by Arsenal at the Emirates, he was dropped for the first time. The re-emergence of Jesse Lingard in the following fixture at Everton would help to ensure that Memphis would never again be a true first choice at Manchester United.
Man Utd will soon be the best club in the world
A promising display as emergency striker in the win at Watford briefly raised hopes of an upturn, but even Van Gaal, whose belief in the player had been the driving force behind United's pursuit of Depay, could not justify keeping him in the team for too long as he repeatedly failed to have any kind of say in fixtures.
On Boxing Day 2015, Wayne Rooney was dropped by Van Gaal, giving Memphis the opportunity to be United's key creative force. By half-time they trailed Stoke City 2-0, thanks in part to a miscued header by the No.7 which had teed up a goal for the home side, and the England skipper was brought on in Depay's place. It had been the Dutchman's 19th start in his first five months as a Manchester United player but the leash was from then on significantly shortened. He would start only four more league fixtures in the remainder of his Old Trafford career.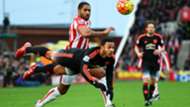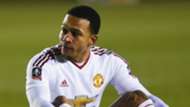 Even before Jose Mourinho replaced his compatriot as manager, Depay had completely lost his way in a United shirt. From headline-grabbing signing one May to exclusion from the FA Cup final squad the next, his 12 months under Van Gaal went anything but to plan. Mourinho spoke of a desire to work with the 22-year-old and nurse him through his tough spell, but in truth his goose was already cooked.
His one start under Mourinho, against Northampton in an EFL Cup third-round fixture in September, lasted 55 minutes. Again that inability to influence proceedings had undermined his hopes of earning back the trust of the manager and the fans. The enduring image of his curtailed 2016-17 campaign with United will remain the giggles shared by Wayne and Kai Rooney after a particularly wayward Depay shot in the England captain's testimonial against Everton in August.
Memphis's emotional Man Utd farewell
Many United fans will be sad to see him go. A player who arrived with so much hope and potential will always be held in some kind of esteem by Stretford Enders. They understood what Van Gaal saw in Depay, but also appreciate it just didn't work out for him in Manchester. It is not normally the United way to give up on players of just 22 without good reason, but it is also clear that it was just destined to never quite work for him at Old Trafford.
He may well go on to be a hit in France. There are those who even believe this may not be the last that Manchester United have seen of him, drawing upon the experiences of Paul Pogba as proof that it is never too late for anyone to make an impression at the Theatre of Dreams. But for now Depay will become a byword for the trappings of life as a Manchester United No.7.
The likes of George Best, Bryan Robson, Eric Cantona, David Beckham and Ronaldo made the shirt synonymous with quality and success. Yet Antonio Valencia's struggles in the spotlight resulted in a change of shirt, Di Maria couldn't become accustomed to life in England and Depay's brazen confidence wilted to an extreme degree.
A young man experiencing a new country and a new culture for the first time found the going just too tough to handle. There's no shame in that, but United needed far more than Memphis Depay was able to deliver.