Arsenal
The rebirth of Welbeck: How Arsenal's No.23 can make up for lost time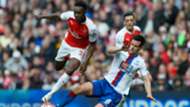 ---
COMMENT
---
Nine months is a long time in football, just ask Arsenal striker Danny Welbeck who spent almost a year on the sidelines recovering from a gruelling knee injury. The 26-year-old joined the Gunners during the final hours of the transfer window in 2014 after then-Manchester United boss Louis van Gaal deemed him not up to the standards of Wayne Rooney, Robin van Persie and Falcao. While van Gaal announced his managerial retirement earlier this week, Welbeck is set for his first start since May when Arsenal take on Southampton in the FA Cup fourth round on Saturday.
Wenger praises fearless Welbeck
Welbeck's Arsenal career has had its fair share of ups and downs so far. His first professional hat-trick in the Champions League against Galatasaray, to scoring the winner against his former club United in the FA Cup quarter-final, there have undoubtedly been memorable moments to emphasise his attacking qualities. But those positives have been overtaken by his injury issues over the past year-and-a-half. The forward had seven different injuries during his first season at the Emirates and last completed 90 minutes for Arsene Wenger's men in the 2-2 draw with Liverpool in December 2015 - evidence that the Frenchman has been careful to manage his troublesome knee problems.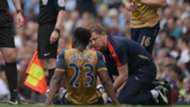 As a player, Welbeck is exciting to watch at his peak. He caresses the ball with every pass, is able to beat a full-back with ease and can finish expertly if he's provided the perfect opportunity by Arsenal's talented midfielders. Although many will consider him the forgotten man in north London due to his absence over the past year, Welbeck remains determined to prove himself and compete for a regular place in the starting XI over the coming months.
He faces tough competition though. Olivier Giroud has scored 10 goals and made four assists in all competitions, Theo Walcott has netted 11 goals and got two assists while the imperious Alexis Sanchez has 17 goals and 10 assists to his name so far. If Welbeck wants to revitalise his Arsenal career then it's imperative that he makes an almost immediate impact, otherwise cameo appearances from the substitutes' bench appear more likely. Wenger has encouraged squad rotation this season and game time will be afforded to the likes of Alex Oxlade-Chamberlain and Lucas Perez but the ultimate aim for all of these first team players is a regular spot in the starting line-up.
"Some players have big injuries and you observe them in the first three months and you think, 'my friend, you will struggle' because they have a handbrake," said Wenger. 
"But some players come back like they have never been injured and he is one of them. He is a young, promising striker – he has a fantastic spirit and people sense that. He is genuine, committed and humble and you do not find that too many times together.
"He has pace, good technique and is committed – he wants to help the team. He is a good finisher as well and before he got injured you could see that was coming out.'Suddenly it was coming and so he was stopped just at the wrong moment."
Wenger's description of Welbeck being a 'young' striker may not be completely accurate in footballing terms but he will certainly be out to make up for lost time over the coming weeks and months. 
Why Reus would be perfect for Arsenal
People generally turn a blind eye to the mental qualities that are required when you are out on the sidelines for so long, watching your team-mates from afar and being unable to contribute to the cause. Wenger sent Welbeck away from Arsenal's London Colney training ground during the early stages of his rehabilitation because of how 'demoralising' it can be for a player.
That decision is an example of how much Wenger cares and respects his players. It is now up to Welbeck to repay the faith shown to him from the manager by helping his Arsenal side to go on and challenge for major honours this season.