Chelsea
The best player in the world right now: How Hazard has been set free by Sarri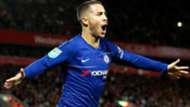 Eden Hazard's winning goal against Liverpool on Wednesday night in the Carabao Cup underlined exactly why many now believe the Belgium captain to be the best player in the world.
It was a goal that had everything and proved once again that Hazard is a player worthy of indulgence. That patently was not the case under Antonio Conte last season.
Whatever went on between the two, it became clear that Hazard was never going to be able to play his best football under the Italian. Conte was too wedded to the idea of collective responsibility to release Hazard from defensive duties. That meant he did not always have the freedom or energy to gallop clear and lead attacks.
It was a bad combination: a coach who refused to veer from his plans in order to get more out of his best player. But under Maurizio Sarri, Hazard has found a coach whose game plan suits him down to the ground.
Sarri has not had to alter his preferred methods to coax from Hazard his best form. He trusts Hazard to deliver and has gone so far as to describe him as the best player in Europe.
And Hazard has excelled for Chelsea this season because, on the field, he is in charge. He has accepted the responsibility for making and scoring goals. There is a certain abandon about the way in which Hazard plays but recently he appears much surer of himself under this coach.
Look at the way he follows his own pass and takes the ball from Cesar Azpilicueta on the right wing before that goal at Anfield. This is a player with a picture of the game in his head and with the confidence and ability to go out and make it a reality. He is the main man and he knows it.
Hazard is a better player when he doesn't have to worry about what happens when his team don't have the ball. Luckily, under Sarri, that's not very often.  
Conte clearly wasn't always happy with Hazard's work-rate, forcing him into a lone striker role at times and under strict instructions to close down passes from the back. That can be seen now for what it was; an insult to a player of his talents.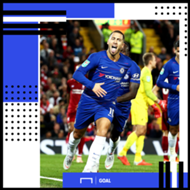 To get the best out of Hazard, a coach needs to let him play his natural game. It is clear that a brilliant World Cup – both for Belgium collectively and for Hazard himself – have helped take his game to these new levels. There is more confidence, more belief, a greater realisation that he belongs in the upper echelons of the game.
He loves the responsibility of being the national team captain and head coach Roberto Martinez has found a great balance in his team, which lets the talent of Hazard and Kevin De Bruyne speak for itself.
Hazard has rediscovered under Martinez and Sarri the joy of commanding his teams' attacks without being burdened with too much defensive work.
During the World Cup quarter-finals win over Brazil, Hazard, Romelu Lukaku and De Bruyne were under instruction to stay on the half-way line when Brazil were inside the Belgian half. That would give the Europeans a great opportunity to break out when Brazilian possession broke down.
But Hazard – early on – instinctively followed his full-back Fagner deep into his own defensive third as he had become used to at Chelsea. It was fixed in-game but a reminder of how ingrained tracking back had become as a result of his work under Conte.
There are a number of different ways to deal with big players. A coach can pander to them, put them on a platform and give the impression the world turns round them. That might work in the short-term but there's not always a guarantee of the peace holding.
Other coaches might bend a star to their will; break them down and have them submit to his authority. But what appears to be working best with Hazard is Sarri's treatment: rust him to win games and have him enjoy his football.
He has broken through a barrier this season. He leads by example through his immense capacity for hard work. He believes every time he sets foot on the pitch that he can play his best.
He should feel like he belongs in the company of Lionel Messi and Cristiano Ronaldo because this season he's playing better than either of them. He seems to be a player of high self-confidence at the moment and the longer that continues the better.
Hazard's fine 2018 was recognised at the recent FIFA The Best awards ceremony with a place on the podium for the world's best XI. But it was Luka Modric, Cristiano Ronaldo and Mohamed Salah up for the main prize.
Don't be surprised if this time next year it's Hazard taking centre stage.