Young Africans
Tambwe: "It is bad luck to be out of action for such a long time'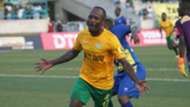 Yanga's Burundian forward, Amisi Tambwe has revealed that he is ready to return to action after stepping up his recovery from long term injury.
It has been reported that Tambwe will join fellow striker Donald Ngoma to take part in training on Monday ahead of their Federation cup tie with Singida United.
Speaking to Goal, Tambwe said that he is feeling much better and he wants to return to action and get back to his usual form especially in front of goal.
"It is bad luck to be out of action for such a long time, but now I am ready to make a return, I need to help my team in the coming matches," said Tambwe.
Tambwe has only featured twice in the current campagn for the reigning champions in the league and made one further appearance in the Federation Cup against Reha.