Surendra Sharma: The security guard turned coach who is putting Burhanpur on the football map of India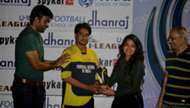 Not many people would be able to locate Burhanpur in a map of India. It is a small town located in southern Madhya Pradesh on the banks of the Tapti River. Located in the heart of the city is the Nehru stadium, managed by the Burhanpur Municipal Corporation.
If you ever pass by this stadium early in the morning or at dusk, you will find a bunch of young boys and girls belonging to various age groups, clad in bright yellow training bibs, practising football under the watchful eye of a stocky young man.
This young gentleman is Surendra Harinarayan Sharma and his is a tale that will inspire one and all irrespective of whether you love football or not.
OFFICIAL: ISL winner gets AFC spot
Born in a small village called Kesur in Dhar district of M.P, Surendra lost his parents before he ever turned two. It was his uncle Heeralal Sharma who took up the responsibility of raising young Surendra.  At his local government school in Burhanpur, Surendra stood out in athletics due to the blistering speed he possessed.
This athleticism led him to be selected for the school football team when he was in the eighth standard. Surendra fell in love with the game instantly but found that there were no football clubs in Burhanpur where he and his friends could practice and learn more about the sport.
This realization, along with his insatiable love for the game, led Surendra and his friends to form a club named Gem Stone Club. Initially though, the going was tough and the lack of facilities forced Surendra to leave his home and join a local training academy in the neighboring district of Khandwa.
Despite the lack of financial resources, he trained at the academy for a year but the lack of availability of professional coaches stunted his growth and it was then that the soft spoken Surendra decided to give coaching a shot.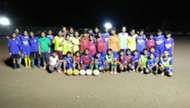 Surendra travelled to Satna district in Northern M.P to take up the role of a instructor in the Rannmat Kothi Club on a meager salary of Rs. 2500 per month. It was here that someone suggested that he go to Goa if he wanted to make it at a professional club.
Constantine - Indian football should learn from Qatar
Still a shy 17-year-old teenager, he left M.P to find a professional club in the former Portuguese colony all by himself. Finding it difficult to make ends meet with the little savings he had, Surendra took up a job as a security guard at a three-star beach resort. He would practice football during the day at a nearby local club and work at the resort in the night.
It was at the resort that a chance encounter with Abhishek Yadav, the then Mumbai FC striker, happened that provided Surendra with a clearer direction. The former India captain was staying overnight at the resort with his Mumbai FC  teammates during an I-League match. On hearing Surendra's story, Yadav was overwhelmed at the young boy's fortitude and determination.
He advised Surendra to take up the AIFF D-licence course for professional coaching knowledge. The pair kept in contact after their meeting. With the help of some financial support and mentorship from Yadav, Surendra was able to complete the course.
"I owe a huge thanks to Abhishek Sir for everything he has done for me. If it wasn't for him, I would never have been able to get where I am today. He still stays in touch with me regularly to see how the academy is doing and to recommend which competitions we can enter," says Surendra. You can clearly see the admiration for Yadav in his voice.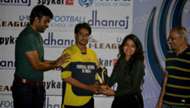 After clearing the D-licence, Surendra had a burning desire to return to his hometown and provide the local kids with a professional set-up to learn football, something which he had himself been deprived of in his childhood. He packed his bags and returned to Burhanpur.
There, with the help of his cousin Durgesh Sharma who worked for the town Municipal Corporation, he arranged for permission to allow his Gem Stone Club Academy to hold daily practice sessions. Though a decent ground was now available, Surendra still needed kids to sign up for the academy.
Kerala Blasters sign Iain Hume
Not many kids played football at Burhanpur and Surendra knew he had to go the extra mile to draw people to the sport. He went to each and every individual house in his locality and the nearby slums in a bid to convince the parents of interested kids. He held free football training camps time and again to popularize the sport.
Sometimes he would hang out near his former school's boundary walls to round up the kids trying to bunk classes to go have a smoke. He would then take them to his academy so that they could have a healthier distraction.
Slowly but steadily, the number of kids signing up for football began to grow. It was still difficult as most of them came from underprivileged backgrounds. Surendra would provide them with football boots and training jerseys from his own pocket.
He never gave up despite the odds and soon his academy would have over 70 kids from both genders practicing at the Nehru Stadium. Once the numbers started growing, Surendra entered his club in various regional football competitions. The trophies and medals started pouring soon enough.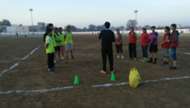 With the help of his mentor Yadav, Surendra's Gem Stone FC entered the Football School of India Championship in Mumbai where they finished as runners up to the home team. Surendra was awarded the Best Coach for his efforts.
It has been one and a half years since Surendra returned to coaching in Burhanpur. One of his protégés, Piyush Patel, has already played in the Eibar Cup in Barcelona. Three boys and one girl from the academy have gone on to be selected for the India Under-13's. Gem Stone FC has won various national level competitions in different age groups as well. 
It is difficult to forget that Surendra is still only 21 years old. He has managed to put Burhanpur on the map of Indian football but he believes that there is still a long way to go and yearns for the day when one of his graduates dons the national colours for the senior Indian national team.
On asked what his future goals are, Surendra said, "My biggest dream right now is to see someone from the Gem Stone Academy to make it to the Indian senior national team. God willing, that will happen soon."
Until then, he will continue to wake up at 4:30 AM each morning to set up the training equipment at the Nehru stadium.