Transfers
SuperSport United to file PSL complaint over Mamelodi Sundowns illegal approach for Jeremy Brockie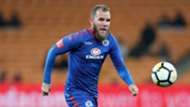 SuperSport United CEO Stan Matthews says they will file a complaint with the PSL at how Mamelodi Sundowns went behind their backs to lure Jeremy Brockie during the recent transfer window.
"There is a charter with rules and a constitution that governs us. I can say watch this space because for sure we will be laying a complaint with the PSL after this transfer window," Matthews told IOL.
SuperSport are not the first side to voice it's unhappiness at how Downs lure players with Cape Town City, Maritzburg United and Ajax Cape Town also lodging complaints over the same issue.
"You tell me what you see around the country at the moment. When (George) Lebese is agitating for a move from (Kaizer) Chiefs, (Oupa) Manyisa from (Orlando) Pirates, Rivaldo (Coetzee) from Ajax (Cape Town), (Lebogang) Manyama and (Aubrey) Ngoma from Cape Town City, Brockie and Phakamani Mahlambi too, you look at that and say what's the common thread? 
"And then you tell me whether we as clubs should be happy that coaches from other teams call our players directly? That terms, prices and fees are negotiated when you haven't had the decency to get permission from a club to talk to their player," Matthews explained.
Sundowns is known for spending big on players, and using various means to acquire them, which leaves a bitter taste for Matthews and United.
"These are things that no football administrator should be happy about. They are not proper. The lack of activity in the transfer market speaks a lot to the fact that it's not only about money anymore.
"It's the way things are being done (that leaves a bitter taste). There are seven or eight clubs in the PSL that are experiencing the same problem of their players being encouraged to stay away from training. It doesn't leave a good taste," Matthews concluded.