Transfers
Sundowns yet to receive Dolly's transfer fee from Montpellier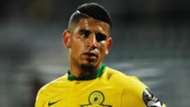 Mamelodi Sundowns have confirmed that they still waiting for Montpellier to pay Keagan Dolly's transfer fee in full before the player can be allowed to join the French Ligue 1 club. 
The two clubs reached an agreement over the sale of Dolly last week, and the player reportedly passed his medicals. 
However, despite agreeing terms with Montpellier, the 24-year-old is yet to put pen paper as Sundowns still have his clearance. 
The Tshwane giants said the clearance will only be given to Dolly once they have received funds from Montpellier. 
"He will be released only when clause two of his contract has been met," general manager Sizwe Nzimande told The Sowetan. 
Sundowns are confident that the deal will go through as planned before the closing the of the January transfer next week.
"[Montpellier] told us they transferred the money, but it has yet to show on our side. We expect it to show any time from now. There's no crisis at all. As soon as we receive confirmation of payment, we will issue Dolly with a clearance and he can join them," he said. 
"We are not worried at all because [Montpellier] know what has to happen," Nzimande concluded. 
Should the African champions not recieve Dolly's transfer fee before the transfer window slams shut, then the South Africa international will be obliged to come back and honour his existing contract with the club.