José Mourinho
'Suffering' Cantona calls for Mourinho to leave Man Utd: This is not the right man with the right woman!
11:35 AM GMT+4
27/10/2018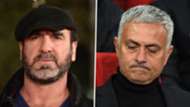 Eric Cantona insists he is "suffering" following Manchester United and has called for manager Jose Mourinho to be replaced.
The Portuguese has seen his future at the club called into question after a sluggish start to the season, which sees the Red Devils 10th in the Premier League with 14 points from nine games.
The Red Devils are also facing a fight to quality in the Champions League after being comprehensively outplayed by Juventus in a 1-0 defeat in midweek, having been held at home by Valencia in their previous fixture in Europe.
Furthermore, critics have attacked Mourinho's style of football for going against the ideology of the club, which has traditionally revelled in exciting, offensive play.
"This is not the right man with the right woman," Cantona told fans during a question and answer session.
"You have the right to lose, but you have to take risks. When you lose to Juve and they had 70 per cent possession of the ball at Old Trafford. Can you imagine that with Sir Alex Ferguson on the bench?
"I suffer, and I suffer even more when I see Manchester City playing wonderfully well."
As to a potential successor for Mourinho, Cantona argued that it should be someone within the club, who appreciates its history.
"We saw Zinedine Zidane, who was a former Real Madrid player and had never coached a team before, become Real Madrid head coach," he pointed out. "They gave him a chance.
"United never gave an opportunity to a player who knows the inside of the club, its identity and its philosophy.
"And I don't want people to think I'm saying that because I want to become the manager of Manchester United!"
The scorer of 64 league goals for the Old Trafford side, Cantona remains a cult hero with the club, having been appreciated for the flair that he brought to the game before retiring aged 30 in 1997.
As a player he was noted for his temper and willingness to provide forthright and frank views, and this has continued into his idiosyncratic retirement, which has seen him take up acting roles and become manager of the France beach soccer team.
Manchester United host
Everton
on Sunday, seven points behind the Champions League spots.