Daniel Sturridge
Sturridge is in a race against himself and must finish strong for Liverpool
12:30 PM GMT+4
28/01/2017
---
COMMENT
---
The constant question marks against Daniel Sturridge will feel as routine to him as the drive to Melwood.
What the striker is and isn't capable of in a physical, technical and psychological capacity forms a debate that has been a fixture throughout his career.
The answers are usually provided by the England international putting the ball beyond a despairing goalkeeper. He has started 83 of 111 games for Liverpool, doing just that 59 times.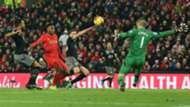 On Wednesday night, however, as Southampton progressed to the League Cup final at the expense of the Reds, he could not respond with the finishing that has earned him elite status. 
There can be no argument that his form has not been of the standard he'd demand from himself - Jurgen Klopp citing a lack of rhythm due to not being consistently involved from the off as a reason - while his acceleration and explosiveness has been diminished due to a catalogue of injuries from his ankle up to his hip. 
Klopp backs Sturridge to find form
The 27-year-old is not as natural a fit as Roberto Firmino is to serve as Liverpool's focal point under the German, yet conversely, as evidenced in the Merseyside Derby victory against Everton, his individualism can be beneficial when the collective is crying out for a different dimension. 
At Anfield against Claude Puel's men, some of the criticism angled at Sturridge was unfair and most likely heightened by the opportunities he snatched at instead of swallowed with his typical efficiency. 
Jamie Carragher's post-match assertion that "when he doesn't score, it's like playing with 10 men" could have been levelled at the forward in past performances, but it was a distortion of his effort in the biting cold on Wednesday.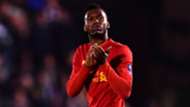 Sturridge moved in behind during attacking phases of play as per Klopp's requirement of trying to disrupt the opposition's organisation. 'Always be an option even if sometimes you aren't a real option' is the instruction and he ticked that box. His runs could be more varied, but there were no concerns with positioning given he found himself at the end of Liverpool's best chances. 
While not as effective as some of his fellow attackers in the press, he made contributions to it while playing simple and as part of the unit.
Rush salutes Sturridge mentality
"I thought the Southampton game, from the physical side, was a really good game from Daniel Sturridge," was Klopp's assessment at Melwood on Friday. 
"He was really involved from the first second to the last. There was not a big difference between the first half and the second half and all that stuff. Usually, and it's not about speed or anything, Daniel Sturridge scores twice in this game with the chances that he had. 
"But he's a human being and he missed chances - that's all.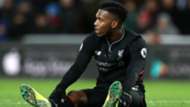 "Of course, longer injuries and more injuries means you lose some, not speed, but the 100% trust in your body for sprinting. Ask a sprinter, it's high intensity and if you have a few injuries, everything takes a little bit of time afterwards, but it's not lost forever.
"Daniel's in the best age for a football player, and so if he can stay fit, everything will be fine."
Klopp responds to Mourinho wind jibe
For the most part, Liverpool have managed to keep Sturridge off the treatment table beyond a calf complaint in November and small issues during pre-season.
But aside from his fitness, everything - from the Birmingham native's body language to social media output - is amplified; the harsh glare a by-product of his brilliance in front of goal since signing from Chelsea for £12 million. 
He is expected to be a mirror of the player from 2013-14 even though so much has changed since that tilt at the title both for the team and him on a personal level.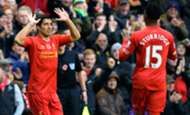 In the post-Luis Suarez era,  Sturridge morphed into the main man; a status further enhanced by the subsequent departures of Raheem Sterling and Steven Gerrard.
When he was sidelined, the chorus from the coaching staff to the squad centered around how hamstrung the team was sans Sturridge's talents.
Gomez commits to Liverpool until 2022
"He gives you a big opportunity to win games and compete at the top end of the table," as former Reds boss Brendan Rodgers noted. 
A culture of indulgence and over-reliance was created and when Sturridge did enter the pitch, he did the business.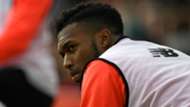 But now, even when fully fit, he is an option for Klopp; the team no longer have to find a way to work without him, he has to find ways to operate within their framework. 
There is a sense that even if Sturridge is able to return to his explosive best during the rest of the season, there is a discussion to be had over his future in the summer. 
Ambitious, resolute and as Klopp pointed out, in his prime years as a footballer, the marksman may have to consider moving on to be a guaranteed starter in an approach more geared to his strengths.
But until then, Sturridge needs to get back to silencing his detractors, while offering regular reminders of his expertise in front of the sticks.