Premier League
Social media erupts as Fifa hands former Ghana FA president Nyantakyi lifetime ban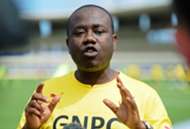 Interestingly, the chorus that greeted Kwesi Nyantakyi's Fifa life ban was more reprimanding and mockful than sympathetic.
On Tuesday, the former Ghana Football Association boss was handed the big punishment for violating three Fifa codes of conflict of interest, bribery and corruption, and commission after being caught in an investigative documentary on politics, corruption and match-fixing in June. 
Nyantakyi, who was also first-vice president of continental football's governing body Caf, president of regional football unit Wafu and a member of the Fifa Council at the time of the exposé, was initially handed a provisional 90-day ban, which was later extended for 45 days.
There could be more trouble for the renowned administrator, who celebratred his 49th birthday on Saturday, as he is still under police investigation on order of Ghana president Nana Akufo-Addo.
As expected, social media was set on fire by Fifa's final pronouncement on the man who led Ghanaian football for 13 years. 
Kwesi Nyantakyi was on his way to being the most powerful man on the corridors of African football. Then he got disgustingly drunk with power, entitlement and greed. And now, he has a bad image forever attached to his name.

— Lexis (@niilexis) October 30, 2018
Fifa bans Kwesi Nyantakyi for life from all football-related activity.

A rapid rise gets extinguished.

— Michael Oti Adjei (@OtiAdjei) October 30, 2018
END OF THE ROAD: Kwesi Nyantakyi receives a life time ban from all football related activities.

There goes one of the most powerful men in African football. Maybe Hayatou had a better ending after all.

— Rahman osman (@iamrahmanosman) October 30, 2018
Just 3 days after his birthday FIFA wished him a belated one.

Kwesi Nyantakyi is banned for life in Football.

Ghana's president and his attorney general are still looking for evidence to prosecute him. #GhanaCrimes . pic.twitter.com/btxJ1TyxsT

— Ghana Crimes (@GhanaCrimes) October 30, 2018
When Country Man Songo head Kwesi Nyantakyi has been ban for life by FIFA pic.twitter.com/wggPCgePQb

— Omo Alhaji 🕌 (@AgesOffical) October 30, 2018
So Kwesi Nyantakyi can't even play FIFA with his kids? pic.twitter.com/ozuMrTXUC0

— ARMANI🤴🏾BLACKWELL (@kinjorge) October 30, 2018
Kwesi Nyantakyi belongs to history now, a sad end to a fast rising global football administration icon. #Ghreloadednews pic.twitter.com/0X0BFg86Zz

— Flex K Germain ( Ghreloaded.com ) (@flexghreloaded) October 30, 2018
FIFA say Kwesi Nyantakyi no fit watch Sports Highlights sef again. Banned from all football prepared activities for life. Belated happy birthday to him. pic.twitter.com/guh4cBWXIk

— #AfrikDawn (@AbeikuLytle) October 30, 2018