Australia
Socceroos World Cup's best when it comes to penalties - study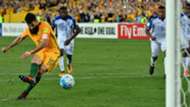 There's no doubt Australia will be outmatched in many facets on the pitch at the World Cup in Russia, but a recent study has found the Socceroos can take some solace from the penalty spot.
Not only do the green and gold boast the statistically most successful penalty taker going to Russia in Mile Jedinak, they also have one of the best penalty savers with Maty Ryan.
The surprising foundings from research conducted by JD Sports Football bodes well for Australia should the referee ever point to the spot during their World Cup campaign.
Jedinak sealed the Socceroos spot in Russia after netting a hat-trick in the final play-off game against Honduras, with two of his three goals coming via penalties.
Those two successful spot kicks from the Australian skipper continued the midfielder's perfect penalty record with Jedinak converting all 14 he's taken in his professional career to date.
That 100 percent record means he bests Cristiano Ronaldo and Lionel Messi in terms of penalty conversion rate, though both have admittedly taken far more in their career. 
The next best penalty taker heading to the World Cup is France's Olivier Giroud, who has converted 94 percent of spot kicks and Marco Reus in third with 91 percent success.
Coming in fourth is another Aussie with Aaron Mooy converting nine of his ten penalties to date.
Jedinak's unrivaled success from the spot seems to have its roots in his unpredictability with the midfielder displaying no real pattern when it comes to where he places his penalties.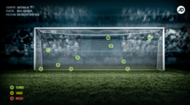 When it comes to spot kicks, goal keepers really have their work cut out but it seems to be a challenge Aussie shot stopper Ryan savours.
From the 30 he's faced in his career, the Brighton keeper has stopped 11 of them giving him a save percentage of 37 percent which is higher than ten other high profile goalies heading to the World Cup.
Germany's Manuel Neuer is next best based on the 11 keepers surveyed having stopped 35 percent of spot kicks faced and Manchester United's David de Gea sitting further back in fifth with 27 percent.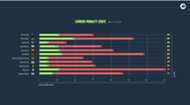 Again in Australia's favour in term of penalties is the fact France's Hugo Lloris rarely saves them, with the Tottenham number one boasting a career stop percentage of just 16 percent.
All that meaning should the Socceroos be awarded a penalty in their World Cup opener against France in Kazan, expect Jedinak to slot it past Lloris and give Australia some hope of an upset.