Manchester City
Sloppy Man City with lessons to learn in quest to win Champions League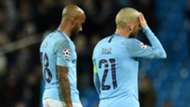 If Pep Guardiola was "angry" with a routine 3-0 Premier League victory, he will be furious with Manchester City's shock 2-1 defeat to Lyon as they kicked off their Champions League campaign.
Guardiola said at the weekend, following the walkover against Fulham, that he would be going over his side's mistakes - bad passes, extra touches - with them in their team meeting on Sunday.
The Catalan is a control freak and has pulled together an army of staff - coaches, nutritionists, player support officers - to ensure his squad are in the best possible position to perform to their best.
So it will be doubly painful for the City boss, serving a touchline ban, to have watched his side beaten from high in the stands, unable to patrol the touchline and shout at his players, or at least to burn off some nervous energy.
It is a shame that no Amazon documentary cameras will be present the next time Guardiola sees his players, in training on Thursday morning.
This is the fourth Champions League match that City have lost in a row, considering they lost a dead rubber to Basel before their bruising encounters with Liverpool. Those Liverpool games are what City have focused on when they turn their minds to Champions League improvement, but it may be helpful to remember here that City were booed off after that game with Basel, and Guardiola told his players they deserved to be.
That will no doubt be the message on Thursday.
City came into this competition with hopes of winning it, and they still will despite this very early set-back. Guardiola and his staff, which certainly includes the talented and well-liked Mikel Arteta, who deputised in the dug-out on Wednesday, have been working on ways to excel on the European stage.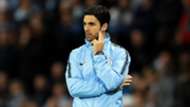 New passing combinations and changes of position have been drilled into the players' training sessions, alongside the other general improvements Guardiola has urged of his squad since they returned from their summer holidays, including repeated warnings against complacency. The aim is a semi-final at least.
But on Wednesday night it looked as if City had forgotten what they had done so well last season. It is tempting to put it down to a failure to do 'the basics', but after Fabian Delph tried that excuse last season, only to be told by Guardiola that football is more complicated than that, you get the feeling it must be something else.
It is also tempting to drag up some of the usual concerns that accompany any losing side. 
Perhaps City miss Kevin De Bruyne, who is still out with a knee injury. Though they have made a fine fist of life without him so far, especially given Guardiola's tactical tweaks in search of Premier League dominance.
Do not take the Champions League for granted!

Manchester City's 2-1 defeat at home to Lyon this evening acts as a reminder to Pep Guardiola and his team not to think too far ahead #UCL@Sammy_Goal has his say: pic.twitter.com/uDM6oyPjvE

— Goal UK (@GoalUK) September 19, 2018
Perhaps their failure to sign a deep-lying midfielder in the summer has cost them and will do so again - especially when you see Fernandinho struggle up against a very muscular and pacy Lyon midfield, particularly Tanguy Ndombele, who City have scouted. 
Perhaps they were complacent here, expecting merely to turn up and win against a side that have started the French season poorly. Although given Guardiola's repeated reminders and constant tactical ploys designed to keep his players on their toes, that is unlikely.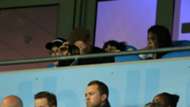 Perhaps they really do struggle when teams take the game to them, and perhaps domestic opposition should do it more often (though the latter is a debate for another day). City saw Shakhtar Donetsk and Napoli play their own no-concessions game at the Etihad Stadium last season, though they found enough in their own locker to win regardless.
Tonight, though, they did not. Tonight there was something not quite right, and they were punished for their mistakes. Fernandinho gave the ball away twice, and twice the visitors scored immediately afterwards. It did not help that Delph produced an even bigger shocker for Lyon's first.
Fernandinho was not the only guilty party in the sloppy stakes. Despite the verdict from one City fan at half-time - "terrible, disgusting" - the Blues were not themselves, but not dreadful in the opening 45 minutes.
They could not play out from the back as seamlessly as they usually do, due to an astute Lyon press, but they did find ways to get in behind, only for their attacking players to lack the required spark when they were called upon. 
Arteta has proven his worth to Guardiola and to City since joining the staff in 2016, whether on the training pitch or giving orders during matches, but he was left with the daunting task of giving the half-time pep talk as his boss, banned from the dressing room too, sat with his family.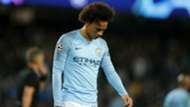 Leroy Sane was brought off the bench to shake things up shortly after the break, and he did, in part. His left-wing wriggling set up Bernardo Silva to pull one back, but City could not use their remaining time to fashion an equaliser.
There were chances for the hosts, but then again there was a big one for Lyon at 0-2, too. 
In many ways this was similar to City's poor results in the opening months of Guardiola's reign; their passing was not crisp enough and their mistakes were ruthlessly punished. That was understandable at the time but slightly more worrisome now.
And after Hoffenheim and Shakhtar drew their opening game earlier on Wednesday, City find themselves bottom of the group they are widely expected to win. 
They may well still do that, and they certainly have the quality and the nous to do so. But while City have been working hard on ideas designed to take them all the way to the final in Madrid next June, this will serve as a timely reminder that there is a long way to go before that. Guardiola's next team talk will be lively.