Opinion
Simple solutions affirm Rohr's Super Eagles as unstoppable force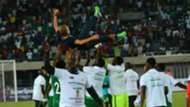 ---
COMMENT 
---
To start at the beginning, one must wonder what exactly Gernot Rohr was thinking when he decided the Super Eagles would play a whole different formation. Having exclusively played a 4-2-3-1 all through his time in charge, the German plumbed for a 3-5-2 for the friendly against Argentina.
The results were mixed, although to what extent is determined by the context of his decision. If it was with a view to cultivating a different approach as the team begins preparations for next summer's World Cup, then it certainly was a peculiar circumstance within which to trial, being that there cannot have been more than a day of preparation with the system.
It really would a sub-optimal way to build a tactic, at the worst possible time, and against the worst possible type of opposition in Argentina, who were always likely to monopolize possession. Being the first friendly, one might have expected it to serve a diagnostic purpose, rather than an experimental one.
On the other hand, viewed as a one-off decision to combat Argentina, it worked surprisingly well, especially in a second period where Nigeria just looked sharper and more lucid than the Albiceleste.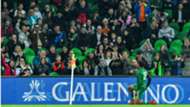 Before we got to the fun though, there was the slapstick.
Daniel Akpeyi, whose last appearance in goal on the international stage came in what is still, to date, Rohr's only loss since taking charge, was given an opportunity to redeem himself. One less charitable might say it was one chance too many.
His error for the opening goal of the game, scored by Ever Banega, was a bizarre comedic set to rival stand-up; he first seemed unable to decide whether he wanted to take a free kick or roll the ball out and kick it. The assistant referee had, in the preceding attack, flagged for offside on a ball over the top.
However, as the ball went all the way through to the goalkeeper, the centre referee let it go, not wishing to disrupt the flow of the game.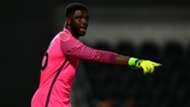 Akpeyi then proceeded to roll the ball just outside his penalty area, presumably to take a free kick that was never given, before then panicking at Sergio Aguero suddenly bearing down, and picking the ball up. Even following his defensive argument, it was hard to understand.
The referee, again lenient, elected not to send him off, but then he completely wrong-footed himself on the ensuing free kick, as if to underline his haplessness.
He may excuse himself by saying the entire team looked rather bereft in that opening half, and while it would not hold up as a caveat, it was true, no doubt.
The decision to commit to a high press was a surprising one, as it has not been a cornerstone of the defensive strategy for this team.
With three centre-backs and Banega deep, Argentina toyed with the front three of Alex Iwobi, Kelechi Iheanacho and John Obi Mikel, while their shuttlers in midfield – Lo Celso and Perez, took up positions outside of Wilfred Ndidi and John Ogu, creating space for Paulo Dybala to work in.
Pressing is a double-edged sword: executed well, and it will create danger for the opponent; execute badly, and it will create danger for yourself.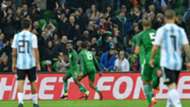 However, if this Argentina team has a weakness (besides Messi-dependence), it is a lack of pace in the defensive line.
By dropping deeper in the second half, forcing Argentina to commit more resources to attack and lose their structure a bit, Nigeria isolated the outside centre-backs and worked the channels outside of them: Iheanacho peeling off Nicolas Otamendi, and Iwobi doing similar on the other side with Javier Mascherano. The result was some almost telepathic riffing, as well as a brilliant combination to level the tie, and yet another to set up debutant Bryan Idowu on his very first touch.
And that was what was truly remarkable about this turnaround: that sometimes, the solution to a complex problem can be starkly simple.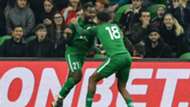 From the end of the first half to the third goal, Rohr made three changes: one at goalkeeper, and two new wing-backs – Idowu and Tyronne Ebuehi. Crucially, unlike those they replaced, both were naturals in their position. Occam's razor: the simplest answer proved the right one.
That aside, the entire team simply went up a couple of notches. Most notable in this regard was Iheanacho who, oddly, only truly began playing well after scoring.
On the whole, that searing second half perhaps best encapsulates the fundamental truth this friendly has affirmed: this is a team whose best components all do their best work at pace on the break, and it is in reinforcing this identity that this team begins to emerge as something truly fearsome.