PSL
Shu-Aib Walters: Why Maritzburg United will avoid relegation from PSL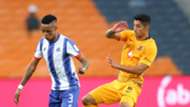 Former Maritzburg United captain Shu-Aib Walters says it is sad to see his former team struggling at the bottom of the Premier Soccer League (PSL) table.
However, the Ajax Cape Town goalkeeper remains confident the Team of Choice will beat Mamelodi Sundowns on Tuesday.
"Yeah, they are playing Sundowns and it's not going to be an easy game to be honest. Things are not looking good for the club," Walters told Goal.
"I believe they have what it takes to bounce back and win games. I think if they can win two games on the trot, things can change for them and obviously some help from other clubs to beat those fighting relegation," he said.
"They still have to play Bloemfontein Celtic, Orlando Pirates and I think it's like seven cup finals for them. I think the most consistent team in the league is Cape Town City and they cause upset Sundowns," backed the Ajax Cape Town keeper.
"The most experienced guys must step up and rally behind the youngsters because they are more matured and also try not to concede early, but a bit of luck can help," he added.
"Sundowns are not really consistent and I think they picked up two points from their last three games and playing them in Maritzburg could help, but it's all up to the belief and the will to fight," he noted.
Speaking about the coaching changes at the club, Walters reckons the club took the right decision to stick with Fadlu Davids until December, but the players must also take the responsibility.
The Team of Choice started the campaign with Fadlu Davids who has since joined the Buccaneers and they roped in Muhsin Ertugral as his successor, but are now coached by Eric Tinkler.
"Yeah they had to make changes in coaching, but it's not about the coaching only. I am not taking cover for the coaches, but the players have to responsible as well," he responded.
"Coach Fadlu has done really well for the club if you look at last season and they were right to be patient and have faith in him, but if the players are not following the instructions then it becomes a different story," said the net minder.
"Look, we all know in football that it's easy to sack one coach instead of sacking 23 players. It's unfortunate, but football is like that," he responded.
"I think they opted for Muhsin because he has been in the relegation situation with Ajax and he was a preferred candidate than Tinkler. On the other hand, the departure of players such as (Lebohang) Maboe, (Bevan) Fransman had a massive impact in the club because these are the key players," lamented the former skipper.
"Maboe scored goals, provided assists and the likes of (Siphesihle) Ndlovu and (Fortune) Makaringe were very good around him. Fransman provided stability at the back and was a leader," he continued.
"They had (Siyanda) Xulu and (Nazeer) Allie, but they were somehow injured and took time to get back and play a role. I think if they do well, we might play them in the play-offs who knows," he reflected.
"In addition, I hope the management will learn from these things and improve their planning because they have sponsors, the government, municipality and they have great attendance in the league," said the Urban Warriors keeper.
"I believe they will improve and learn from this situation if they survive and I am very sad, but football is like that. One team must win the league and one has to be relegated, unfortunately," he concluded.