Manchester United
Seven minutes vs PSG! How Lukaku went from 'untouchable' to token sub at Man Utd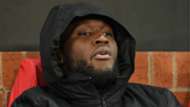 As Jesse Lingard slumped to the ground for a second time, Alexis Sanchez was told to get stripped and ready for action. Anthony Martial had been struggling as well and, by half-time, he too would be forced to withdraw, with Juan Mata replacing him.
However, after Paris Saint-Germain began to really show their superior quality in the second half of Tuesday night's Champions League clash at Old Trafford, Romelu Lukaku stayed rooted to the Manchester United bench until less than seven minutes remained on the clock.
It was a curious detail on a night when the hosts lost their unbeaten run under Ole Gunnar Solskjaer that the £75 million attacking figurehead on whom Jose Mourinho had relied so much for the majority of his reign was not trusted for more than the dying embers of the game.
This, despite the fact his side desperately needed a spark to give themselves a realistic chance of keeping the tie alive in Paris on March 6.
While Sanchez's fall from grace has been much discussed and his prospects on succeeding at Old Trafford seem to slide away by the week, Lukaku's transformation from untouchable beacon to untrustworthy inconvenience is every bit as stark.
Perhaps to some it was a little more predictable that the Belgian would soon begin to find the going tough at the top level as his skill set's limitations were tested by the week. But his current predicament is arguably every bit as worrying as Sanchez's malaise.
After arriving at United in the summer of 2017, Mourinho gave Lukaku unlimited opportunities to succeed. Scoring 11 times in his first 10 games for the club certainly helped his cause, but even when the goals began to dry up, there was to be no loss of faith from his manager.
"I have to protect my players when I feel they deserve it, and Romelu always deserves it because what he does for the team is fantastic," Mourinho said during a 2017-18 run which would see Lukaku score just once in 12 appearances.
"Playing football for a striker isn't just about scoring goals, so, for me, he is untouchable in my team and I think he should be untouchable in support from the fans."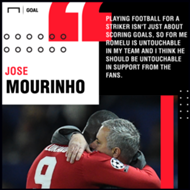 The manager's faith was repaid with 27 goals in Lukaku's debut season and his ankle injury in the run-in to the FA Cup final was seen as a key reason for United not imposing their will on the showpiece as they lost meekly to Chelsea.
Yet as Mourinho's 30-month reign neared its end, Lukaku was no longer untouchable.
He was dropped to the bench when Juventus came to Manchester in October amid increasing concerns about his poor build-up play, and his presence in the United line-up was no longer the given it had been the season before.
That slide has accelerated dramatically since Solskjaer replaced Mourinho in December, with the former Chelsea and Everton forward starting just four matches under the Norwegian as Marcus Rashford has revelled in the No.9 spot.
Two of Lukaku's outings have come in the FA Cup, while the others were against Burnley and Fulham in games in which Solskjaer looked to rest his key players ahead of more pressing fixtures.
Against Burnley, with United trailing by a goal and needing inspiration, the caretaker manager's two tactical changes were to haul off the misfiring Andreas Pereira and then to end Lukaku's night 66 minutes in.
Tuesday's ignominious late arrival sums up where he is right now in the United pecking order, with his appearances under Solskjaer coming at an average of 40.8 minutes in length as opposed to 79.5 under Mourinho.
He also started 81 per cent of league fixtures under the Portuguese but just 22% since Solskjaer took over.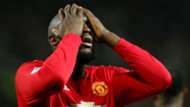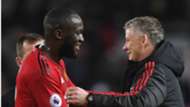 Something needs to give at some stage with Lukaku.
The Sanchez issue has found the greater spotlight due to the salary being collected by the Chilean, and latterly by the injuries suffered by Lingard and Martial.
But if Lukaku was a man in form, Rashford could well be helping to ease the burden in the wide positions right now. Instead, Solskjaer has only three forwards he can truly rely on out of the six senior attackers he has at his service, and Lukaku is not one of them.
He is likely to get the nod on Monday when United travel to Chelsea in the FA Cup, with Solskjaer again looking to rotate slightly ahead of a period which sees United take on Liverpool, PSG, Arsenal and Manchester City in the space of a few weeks.
It is an opportunity the No.9 must take if he is to resurrect his United career.
While Solskjaer made a career of snatching shortened opportunities off the bench, Lukaku has become used to being the reliable totem from the off.
But if he can't be trusted to have an impact for longer than seven minutes when United are chasing a game, then he has a lot to prove – and quickly – if he is to become anything close to untouchable once more.