Senegal
Senegal World Cup: How the Group H teams fared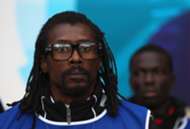 Senegal are returning to the competition after an inspiring debut 16 years ago when they reached the quarterfinals of the 2002 World Cup, notably stunning then defending champions France in their opener (1-0). Locals are expecting another positive campaign this time in Russia, but the Teranga Lions' initial hurdle would be surmounting the challenges in Group H to book a place in the knockout stages.
Senegal
Senegal 1-1 Uzbekistan
The choice of Uzbekistan was meant to help Senegal clear the decks for their Asian opposition in the group, Japan, who remain a tricky team for several African sides such as Cameroon.
Uzbekistan may not necessarily be a suitable sparring partner, but their healthy stamina was what coach Aliou Cisse probably went for. They took the lead by the 20th minute through a penalty transformed by Otabek Shukurov while Senegal had to toil until the hour mark to pull level through Pape Moussa Konate.
It was a good test of strength and concentration for the Lions who will face another obstinate team Bosnia and Herzegovina on Tuesday.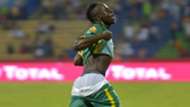 Group H
Beating Poland, who are currently 6th on Fifa ranking, tied with former world champions Spain, is an inspiring achievement for Nigeria and energizing news for Senegal who will open their campaign in Russia against the White and Reds in Moscow on June 19.
The lone goal win achieved courtesy of a 61 minute penalty dispatched by Victor Moses is not the only talking point from that encounter. Preventing Robert Lewandowski and his teammates from having their way at their backyard in Wroclaw was a worthwhile feat.
Senegal need to draw some lessons from this, and although, Poland may reemerge with a different spirit at the World Cup, the Lions already know where to start from.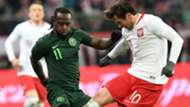 Group H
France 2-3 Colombia
Colombia proved on Friday that they are the team to beat in Group H. After going down by two goals, the Coffee Growers eventually won the game, hitting home three goals that were made possible by a sloppy defending from Les Bleus.
Luis Muriel, Radamel Falcao and Juan Quintero answered goals from Olivier Giroud and Thomas Lemar.
Senegal must be prepared to upset their pace, especially through the flanks, which France poorly managed in the second half of the game. More so, Colombia have a number of black players that have the potential to adapt to African football even though they have never played on the continent.
They appear to be the Teranga Lions' biggest threat in the group.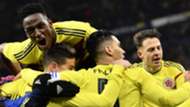 Group H
Mali 1-1 Japan
Both teams fought it out in a match that didn't look like a friendly, which the Japanese used as groundwork for their Group H African opponent, Senegal.
Mali did not qualify for the World Cup but they are known as tough rivals of the Teranga Lions.
Abdoulaye Diaby put the Eagles ahead from the spot by the 44th minute, but saw his side fall into the clutches of the Asians, who controlled the remainder of the meeting, with Shoya Nakajima grabbing a 90th minute opportunity to level the contest.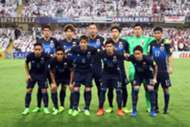 To bring Japan to heel at the World Cup, Senegal need to stay active, heart and soul, across both halves.